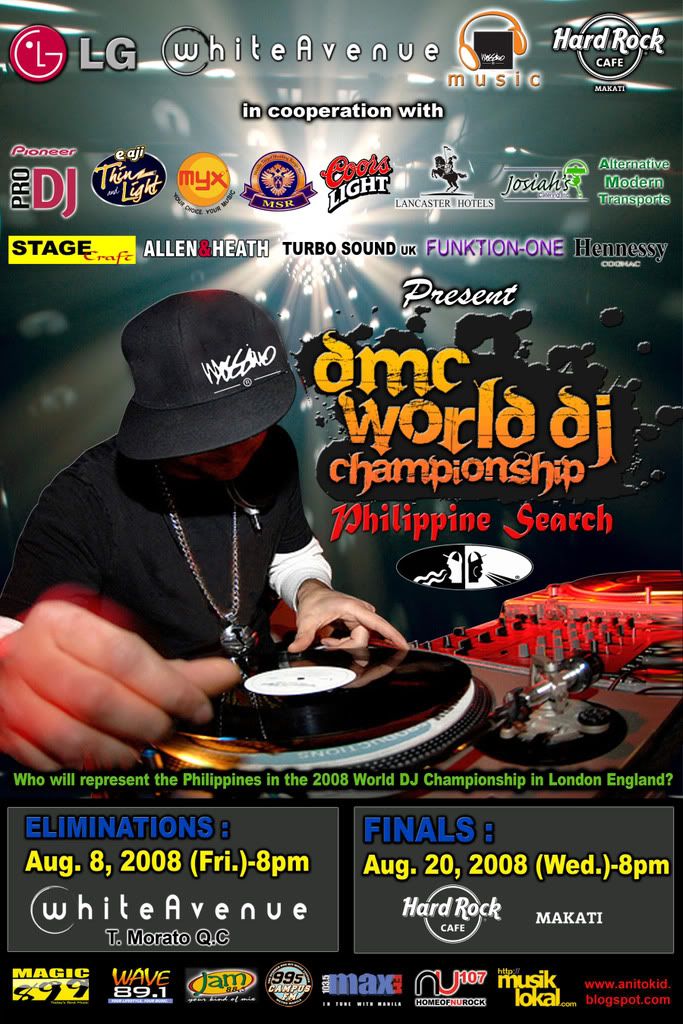 The

2008 World DJ Championships

is fast approaching and DMC Philippines is racing against time to find the best undiscovered music mixer in the country!
After the recently-held Philippine eliminations, the screening committee led by DMC Philippines franchise holder Jesse Cambosa, aka Jesse Gonzales, found nine candidates! Music Mixers DJ 3gah, DJ Bass Boy, DJ Gu Goo, DJ J1, DJ Jet, DJ Red-I, DJ Rockadelic, DJ Skin Khadafi, and DJ Tong will go up against each other in the finals, which will be held on August 20, 2008, at the Hard Rock Café in Makati City.
Truth be told, the DJ who emerges victorious will compete in this year's World DJ Championships from September 25 to 27, 2008, in London, England! And I kid you not!

The Philippine search for the 2008 DMC World Championships is presented by
White Avenue Bar & Restaurant
HARDROCK CAFÉ MAKATI
MOSSIMO MUSIC


in cooperation with

PIONEER PRO DJ
E AJI THINS AND LIGHT
MYX MUSIC CHANNEL
MANILA TARGET SHOOTING RANGE INC.
Aeroflite Aviation
COORS LIGHT
LANCASTER HOTELS
JOSIAH'S CATERING INC.
STAGE CRAFT INTERNATIONAL
ALLEN & HEATH
TURBO SOUND UK
FUNKTION-ONE
HENNESSY
Wave 89.1 FM
Jam 88.3
Campus 99.5 FM
NU 107 FM
105.1 CROSSOVER FM
Maxx 103.5 FM
90.7 Love Radio
101.1 Yes FM
ADS VOLUME ADVERTISING
MUSIK LOKAL.COM

and
The AnitoKid
- www.anitokid.blogspot.com -

"The AnitoKid loves DMC Philippines!"


*Did you enjoy the post? Did you find it interesting?
You know what to do...:)