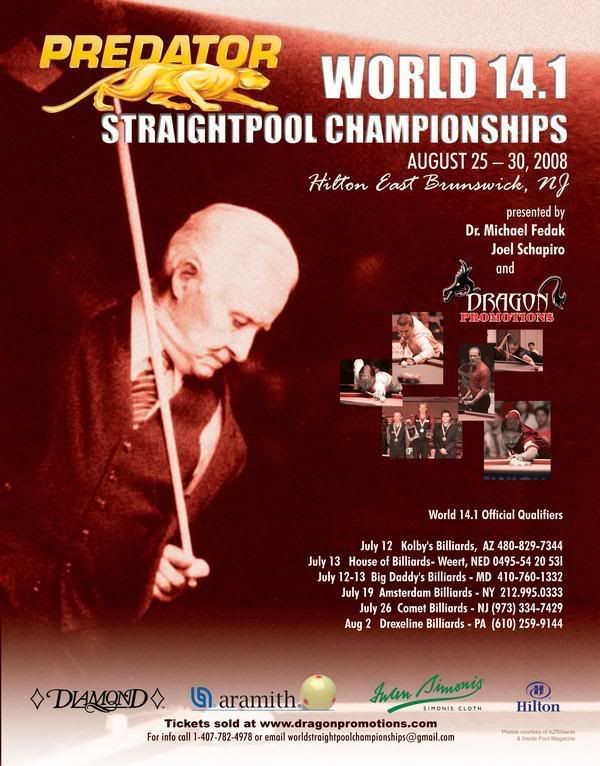 Billiards
buddies, pool players, and fans of the cue sport, here is another update on the prestigious
2008 Predator World 14.1 Straightpool Championship

, being held at the Hilton Hotel in New Brunswick, New Jersey!
Sixteen pool players are still fighting it out! And I kid you not! Eight players are in the winners' bracket, with Mika Immonen overcoming John Schmidt with 150-73. The Iceman advances to play former world 9-ball champion Thorsten Hohmann of Germany. Hohmann defeated Ralf Souquet with a 150-47 score.
The defending champion of the event, Oliver Ortmann, suffered a 150-140 loss to Mike Dechaine. Dechaine will square off against Niels Feijen, who humbled Ignacio Chavez with a 150-10 performance.
Corey Deuel, the 2008 Million Dollar 9-Ball Shootout champion, got the better of Raj Hundal with a 150-104 victory. Deuel will next play Filipino pool player Francisco Django Bustamante of Puyat Sports, who bested Danny Harriman with a 150-111 win.
Meanwhile, Thomas Engert advances to the winners'-side final eight with a 150-50 stoppage of Dominic Jentsch. Engert's next opponent is none other than Nick Van Den Berg. Van Den Berg won over Radislaw Babica with a 150-103 score.

More developments on the one-loss side:
John Schmidt's elimination of Allen Hopkins (150-111) will see him play Ralf Souquet, who sent Konstantin Stepanov packing with a 150-10.
Oliver Ortmann ousted Mike Sigel with a 150-105 win. Ortmann's next challenge is Ignacio Chavez, who got the better of Steve Lipsky with an unbelievable 150-2 score!
Danny Harriman defeated Dan Barouty 150-91, and will come face to face with Huidji See, who bested Raj Hundal 150-70.
Jasmin Ouschan is also on the prowl, eliminating Radislaw Babica with an impressive 150-10 victory. She is scheduled to next play Dominic Jentsch, who ousted Vincent Facquet 150-80.

Stay tuned for more updates on the 2008 Predator World 14.1 Straightpool Championships, friends!
"Immortality! The AnitoKid!"


*Did you enjoy the post? Did you find it interesting?
You know what to do...:)