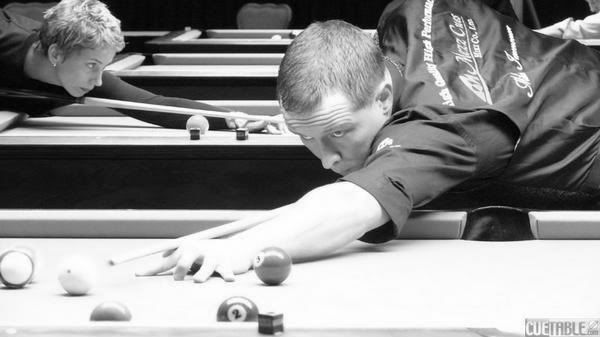 Billiards
buddies, pool player friends, and fans of the cue sport, the round robin stage of the 2008 Predator World 14.1 Straightpool Championship has concluded at the Hilton Hotel in New Brunswick, New Jersey! Four players remain unbeaten with a total of 32 players advancing to the next stage, and 32 players going home.
Mika Immonen, aka The Iceman, is the front runner with a clean record and has kept his opponents' scores low to a 210 ball total made against him! Nick Vandenberg of Holland was #2 seed being undefeated with 238 balls against him, while Johnny Archer and Neils Feijen were #3 and #4 seeds respectively for the upcoming 32 man chart.
The top player from each group are seeded #1 through #8, with #1 playing #32 seed. Defending champion Oliver Ortmann of Germany won his group, with surprise group winners that included David Daya, Charlie Williams, aka The Korean Dragon, and Filipino pool player Francisco Django Bustamante of Puyat Sports. Incidentally, Django Bustamante is making his international debut in 14.1! And I kid you not!
Other pool players who advanced include World 14.1 Champion Thorsten Hohmann, Jasmin Ouschan, Mike Sigel, Bobby Hunter, and Allen Hopkins. Out of 39 American and 16 European entrants in the event, only 16 and 13 advanced, respectively.
Stay tuned for more updates on the 2008 Predator World 14.1 Straightpool Championship, everyone!
"Truth be told, we are number one! The AnitoKid!"


*Did you enjoy the post? Did you find it interesting?
You know what to do...:)