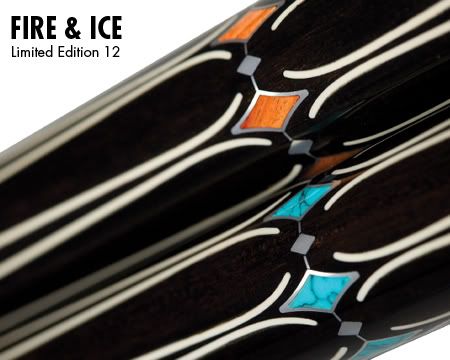 Billiards

buddies and pool players – check out the newest pool cues from Predator Cues – the all-ebony

Predator Fire and Ice

pool cues!
With rare inlayed diamonds of

Turquoise

or

Tulipwood

, enveloped by aircraft aluminum, each pool cue has its own luxurious identity! Truth be told, the

beauty of the Predator Fire and Ice

pool cues is simply breathtaking! Performance? It is nothing but what one would expect from Predator Cues – the best! Lest I forget, only 100 of each will be released – ever!

And I kid you not!
*The Predator Fire pool cue gets its name from its Tulipwood inlays, while the Predator Ice stands out in Turquoise – both of which are rimmed in aircraft aluminum for even greater wow!
Designed and engineered by Predator, you can be sure that the all-Ebony pool cue will draw as many heads with their dominating performance as they do with their strikingly decadent good looks!
And oh! Did I mention that each pool cue comes equipped with a stunning Predator Blak 1x1 case? Yes, they do! No kidding!
Check out the Predator Fire and Ice pool cues! Play like a champion! Win like a tycoon!

"The AnitoKid loves beautiful pool cues!"


*Did you enjoy the post? Did you find it interesting?
You know what to do...:)