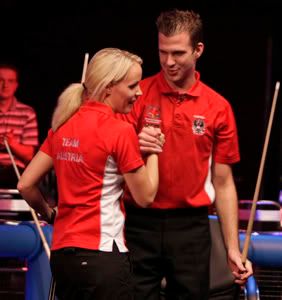 Billiards

buddies and pool players, here is an update on the ongoing PartyPoker.net

World Cup of Pool

! The update comes direct from the

World Cup of Pool

website!

And I kid you not!
Classy Austrians Floor Vietnam
Team Austria put in one of the most impressive performances so far in the PartyPoker.net World Cup of Pool as they swept aside Vietnam 8-1 at the Outland Nightclub in Rotterdam.
The pairing of

Martin Kempter

and

Jasmin Ouschan

looked in excellent form throughout and will be relishing their Round 2 match with
Belgium
tomorrow night.


Martin Kempter is one of the improving players on the European circuit with some notable scalps to his name. He played with Jasmin's brother Albin in this event last year, but the 22 year-old from Klagenfurt's achievements made her a certainty for Team Austria. She came third in the WPA World Straight Pool Championship, a men's event, earlier this year and had a great run at the World Ten Ball in Manila.


The Austrians moved into a swift 3-0 lead before a nervous looking Vietnamese duo took the fourth. However they lost the table with a dry break and Ouschan and Kempter punished them as they confidently cleared the table to move into an ominous 4-1 lead.
Another dry break, this time from Ouschan, gave the Vietnamese a chance but despite a great jump shot to pocket the 1 ball, they were forced to play it safe.
Vietnam made a great two rail escape from a tight snooker but scratched to leave ball in hand for Austria who ran out to move 5-1 ahead.


From the break, the Austrians trotted through the table to go to 6-1 and a golden break from Ouschan, as the nine was kicked up table in the next, put them on the hill.


They made no slip ups and cleared from the break to take the match by a convincing 8-1 scoreline.
"Life is everything with The AnitoKid
!"
*Did you enjoy the post? Did you find it interesting?
You know what to do...:)