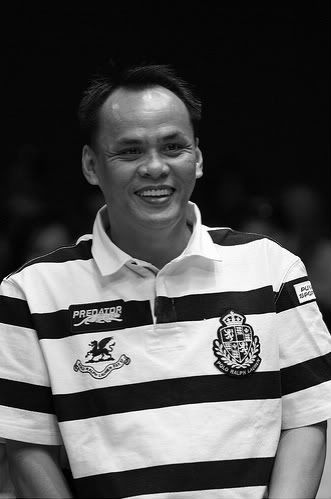 Billiards

buddies, here is another read on Filipino pool player

Francisco Django Bustamante

! From what I could gather, the article was first published by

Romina S. Austria

in Planet Philippines. The post was subsequently posted in

Easy Pool Tutor

.

It is one interesting read, friends!

And I kid you not!

Enjoy!



Django's Poverty Not An Obstacle to Big Time

Francisco "Django" Bustamante was 12 when he picked up the game of billiards in his Tarlac, Tarlac. Regular players in the billiards hall near the public market would shoo him away. He took time out from selling banana cue (deep-fried, caramelized bananas) and boiled peanuts by squeezing in a few minutes of practice.

Today Django is a Tarlaqueño who can never be turned away by his province mates. Provincial and city officials gave him a ticker tape parade at Tarlac Plaza for winning a gold medal at the Asian Games in Busan, South Korea, last year.

Together with

Antonio Lining

, he beat the Koreans Jeong Young-Hwa and Kim Won-Suk, 11-9, in the 9-ball doubles for the Philippines' second of three gold medals.

The Asian Games feat is one of many feathers in Django's cap. He used to stand on empty soft drink bottle cases so he could reach the billiards table.

Now based in Kiel, Germany, he has already won $107,200 from various tournaments last year. In 2001, he earned $41,030.

In 1988 he earned his biggest prize when he pocketed $122,000 with victories in Denver, Tulsa, Nashville, Columbus 10-Ball Open and the Reno Open 9-Ball Championship, where he beat the current US Number One player,

Earl "The Pearl" Strickland

.

Fellow champion

Efren "Bata" Reyes

is Number One so far in the player money list in 2002 with $112,900 while Strickland is third at $102,700.

Other Filipinos in the list are Jose "Amang" Parica, one of country's early billiards greats, at No. 10 with $38,220.00 and Filipino-Canadian Alex Pagulayan at No. 13 with $32,230.00.

Django was in school while a sister managed an eatery beside the billiards hall that his brother owned.

Django improved his game there, often missing his classes to play. He studied the moves of older players while listening to their advice. He played alone on an empty table using three balls already used in a nearby table. He waited until the next three balls from another pocket became available.

" I had one thing in mind: practice and practice. I knew I would be good at the game. I didn't want my skill to go to waste," Django, 39, said.

He was fielded in tournaments in Tarlac, and started making the rounds of Pampanga and the rest of Central Luzon. He went to Manila in 1985 and campaigned at the Coronado Lanes in Cubao, owned by the

Puyat

family, later his and Bata's benefactors.

At 22, Django was pitted against Parica, Bata, Leonardo Andam and Rodolfo Luat. His first major tournament, the

San Miguel World 9-ball Open

, was held in Manila in 1988. With competition from Europe, the US and Japan, he made it to the finals but lost to Amang.

In 1990, a Germany-based Filipino invited Django to compete. He impressed an Indonesian who owns a billiard hall that he was invited to work there as its resident pro. Two years later, he won the Munich Masters over his friend Mike Lebron.

Django shuttles regularly between Germany and Manila and speaks good German.

The

US Professional Billiards

tour was his next stop in 1992. In 1993, he beat Strickland in the Bicycle Club Casino finals, earning him a slot in America's Top 10 for the next two years.

Django won twice in the eight-leg

Camel Pro Billiard Series

in 1997 as he moved up to No. 3 in the US circuit. Japan tournaments saw more of Django beginning in 1991. He topped the

Japan Open

, 10 years after winning the same event.

Django is reserved. He barely smiles, especially while competing. He relaxes by watching a movie with wife Mila and son Jun-jun. He walks briskly twice a week to keep fit. Sleep is important, especially before a competition.

While competing in the World Championships in Cardiff, Wales, his seven-month-old daughter Mariel died. For two nights before the finals, which he lost to Strickland, Django could do nothing but cry.

" I wanted to be a world champion. That would be a great feeling for my family and the country," he said. "I came two racks short of the win, but I could not concentrate. I kept thinking of my daughter. I wanted to get it over and done with and see her."

From the airport, Django went straight to the funeral. He broke down upon seeing the lifeless body of the little girl he and his wife had waited for seven years.

But his Asian Games victory gave him a new kind of high. "It was overwhelming. The pressure was bigger because the whole nation was behind you."

He dedicated the victory to Mariel, adding, "With the Asian Games, you play for the country. I wasn't thinking of my opponents. At the back of my mind was my country which I shouldn't fail."

Django has not forgotten his humble beginnings. He mingles with his fellow Tarlaqueños.

He said, "Poverty should never deter people from achieving what they want in life. I used to be a nobody. I'd like to think I still am a nobody. But I can proudly say that I beat the odds and got to where I want to be.




"It's The AnitoKid spirit!
"
*Did you enjoy the post? Did you find it interesting?
You know what to do...:)