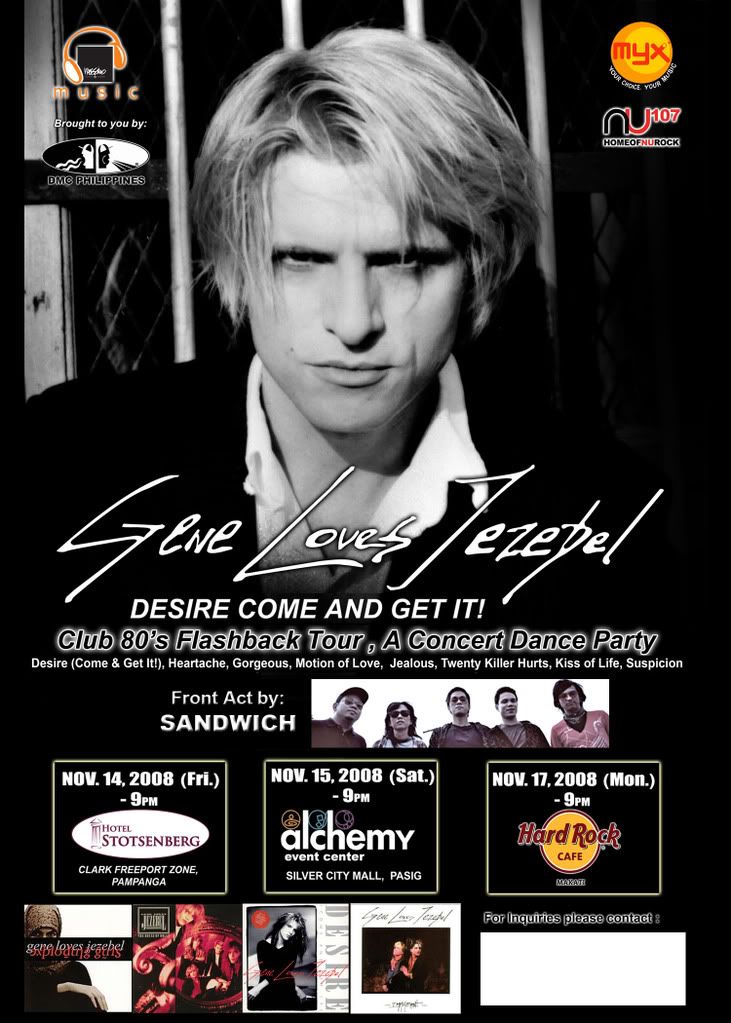 Billiards buddies,

pool players

, and music lovers - guess what!

Gene Loves Jezebel

is celebrating 2008 with the new release "

Stunners

" - songs dating from 1984 to 2004! Founding member, the talismanic lead singer and principal songwriter,

Michael Aston

, returns after last year's triumph with Dramarama, Flock of Seagulls, Real Life, and When In Rome to the Lost 80's tour to coincide with the much anticipated release!

For those not in the know, Gene Loves Jezebel has enjoyed great acclaim from the likes of industry giant

Rolling Stone

! Incidentally, Rolling Stone gave the last release, Exploding Girl, a 5 stars – describing it as "A mesmerizing, melodic meditation!" And let's not forget the hits that launched Gene Loves Jezebel into stardom - Desire (Come and Get It), Heartache, jealous, Twenty Killer Hurtz, Kiss of Life, Suspicion, Motion of Love, Upstairs, Gorgeous, and more!


Gene Loves Jezebel has already toured a number of countries, including Brazil, Peru, France, Canada, the UK, and Mexico. But guess what, everyone! Gene Loves Jezebel is currently planning to rekindle the flame of their fans! And it will be done! Gene Loves Jezebel will tour again in 2008 to perform their greatest hits! And I kid you not! Gene Loves Jezebel will tour this year and the stops include Germany, France, Italy, the United Kingdom, South America, the United States, and the Philippines! It's

Gene Loves Jezebel Live in the Philippines!

Remember, you read it first here!


The tour has been made possible by none other than the Philippines' famous man of music,

Jesse Gonzales

of

DMC Philippines

! Gene Loves Jezebel will do a total of three tour stops here in the Philippines, i.e., Hotel Sotsenberg, Clark Freeport Zone, Pampanga (November 14, 9 PM), Alchemy, Silver City Mall, Pasig (November 15, 9 PM), and at the

Hard Rock Café

, Makati (November 17, 9 PM).


Truth be told, we are definitely in for three days of great music! And I can't wait!
Other interesting reads


*DMC Philippines
*World DJ Championships
*Rick Astley Live in Manila
*DJ Ricky Stone at Ascend
*Niels Feijen Live at Absinth
*Hard Rock Cafe 8-Ball Tour
*MAPPA 9-Ball Tour
*Winner Take All
"The AnitoKid loves great music!"


*Did you enjoy the post? Did you find it interesting?
You know what to do...:)