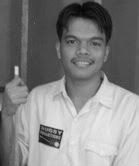 Billiards buddies and pool players, did you know that Filipino pool player Carlo Biado of

Bugsy Promotions

, scored one big win over

Shane Van Boening

at

One-Side
Billiards

the other night? Yes, he did! And I kid you not!


Carlo Biado won the Php200,000 pot with a very impressive 21-14 victory over the South Dakota Kid. But wait, there's more! The runner-up in the First Senate President Manny Villar Cup (Bulacan Leg) also scored a 21-16 win over Taiwan's Ko Pin-yi for Php100,000!
Truth be told, the impressive wins will certainly boost Carlo Biado's chances of being one of the top picks in the forthcoming National Billiards League (NBL). Good luck Carlo!

"We are living in the age of The AnitoKid!"


*Did you enjoy the post? Did you find it interesting?
You know what to do...:)