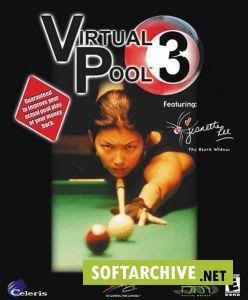 I saw some info on the

Virtual Pool 3
video game, which features Jeanette Lee, and said to myself, "Hey! This could be an interesting read for billiards buddies and pool players alike!"
Virtual Pool 3, which is being marketed as the most complete pool and billiards game ever made, comes complete with 16 games from Virtual Pool Hall, e.g.,
8-ball, 9-ball, and snooker. From what I could gather, Virtual Pool 3 integrates exclusive video of Pro-Tips from Jeanette Lee, realistic 3D pool environments, computer opponents that come complete with bios and photographs, and a new and improved graphics system. A career mode is included, which allows gamers to gain experience and work their way up to championship level. Another impressive feature is the multi-player online support that uses the GameSpy Arcade.
But wait, there's more! Every game in the Virtual Pool series comes with a money-back guarantee – one gets the purchase price refunded if their real-life billiards skills do not improve after putting the video game through its paces! Wow! That's a first!
And I kid you not!
Minimum specifications for the Virtual Pool 3 video game for the PC are: IBM or 100% compatible Pentium™ 233Mhz or better, Windows® 95/98/2000/XP/Vista with DirectX 8, 32MB RAM, 200MB of free hard drive space, 4X CD-ROM drive or better, DirectX certified video and sound card.
Other interesting reads

Nintendo Wii Billiards
World Cup of Pool Video Game
Pool Stick for Wii
Custom Cue for Wii
Nintedo Wii Pool Cue
"The AnitoKid is coolness!"


*Did you enjoy the post? Did you find it interesting?
You know what to do...:)