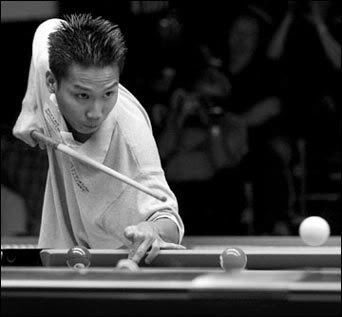 Billiards buddies and pool players, here is a read on the ongoing
2008
Guinness 9-Ball Tour
,
Guangzhou
leg! The post was written by Kelvin Leong and it is one interesting read!

And I kid you not!
Enjoy!
Will Alex Pagulayan be able to win back-to-back legs on the Tour like Chinese-Taipei bet, Chang Jung-Lin did?
After winning the previous leg in Singapore, he has come back a whole different player full of confidence and the boundless energy that the crowd expects of him.
Wang on the other hand has looked impressive with a 9-0 win in the preliminaries against Hong Kong's Han Hao Xiang before cruising through against Chang Jung-Lin in the final eight.
Both players are capable of putting in some amazing performances but Wang can sometimes give up easily when things go wrong early while Pagulayan's antics takes away his focus when he needs it most.
The winner of this game will be the one who comes out of the blocks early and if either one can take an early lead, he might just emerge as the first finalist of the Guangzhou leg.
This is one game that will whet the appetite of any pool fan across the globe.
'Clash of the money game kings' will be the key phrase here with both players renowned in their homeland for their superb record in money games.
Orcollo lost to Yang in a much-publicized 'Clash of the money game kings' last year and on the Tour this year, the Filipino yet against lost to Yang in a Group E match on the Penang leg.
Will it be third time lucky for Orcollo? The Filipino must be glad he has a chance to avenge his two losses and with he comes into the semifinals on a high after ripping Singapore bet, Toh Lian Han to shreds in the quarters.
One eye-catching fact is that Orcollo's jump shots have been amazingly accurate on this leg. Many a times he has come back from the dead relying on this shot.
Yang cruised through on day one and was the first player to make it to the quarterfinals after disposing Nitiwat Kanjanasri and debutant, Elvis Calasang in Group H.
The Taiwanese bet's languid style can put his opponent off his game as he is notoriously slow when taking shots.
His dislike of the Tour's shot clock and three extensions format is well-known but a seasoned professional like him should have adjusted to it by now.
Pool fans will be eagerly anticipating the two games with the Filipino-Taiwanese rivalry coming into play.
Will it be two Chinese-Taipei in the finals or will be an all Filipino affair?
For the neutral pool fan, it will not make a difference as all four players are top quality players with plenty of skills and tricks to entertain the crowd.
"It's passion and all with The AnitoKid!"


*Did you enjoy the post? Did you find it interesting?
You know what to do...:)