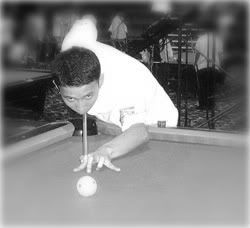 Billiards

buddies and pool players, guess what!

Mike "The Lightning Kid" Takayama

will go up against some of the country's finest cue artists in the

Senator Manny Villar Cup

-

Panagbenga Leg

scheduled to start on February 20, 2009, in Baguio City - the Summer Capital of the Philippines!

The 19-year-old Filipino-Japanese will square off against

Efren "Bata" Reyes

, Francisco "Django" Bustamante, Rodolfo "Boy Samson" Luat, Alex Pagulayan, Dennis Orcollo, Ronnie Alcano, Lee Van Corteza, Antonio Lining, and Joven Bustamante.

For those not in the know, Mike Takayama was given automatic seeding in all the scheduled legs of the Senator Manny Villar Cup legs this year after winning the coveted Search for the New Billiards Idol Grand Finals in 2008, organized by the

Billiards Managers and Players Association of the Philippines

.

Winners of the prestigious Senator Manny Villar Cup in 2008 include Warren Kiamco – Alabang Leg,

Gandy Valle

– Cebu Leg,

Ramil Gallego

– Bulacan Leg,

Roberto Gomez

- Davao Leg, and

Rodolfo Luat

– Bacolod Leg.

Oh, I almost forgot! I, together with two of My Closeness, will be in Baguio to watch some of the matches of this exciting event!

And I kid you not!