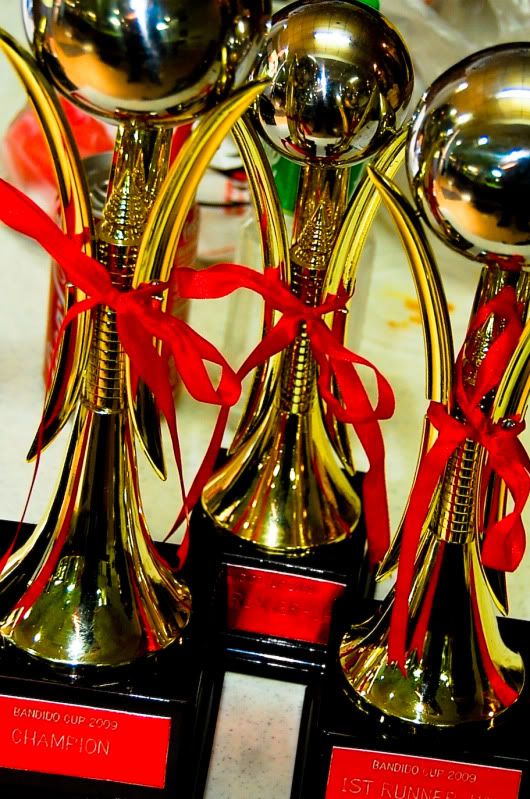 'Twas about 9:30 AM when I arrived at the

AMF-Puyat Superbowl

at the Makati Cinema Square in Makati City. I noticed that the balloons promised to us for the

Bandido Cup

event were not yet in placed, thus I went to GM

Carmen Magtibay

to inquire about it. Carmen had a surprised look on her face – she did not forget the snacks nor discounts for table time. The balloons slipped her mind. She quickly called two of her staff to accommodate my concerns.

After thanking Carmen I pulled myself beside her staff to help out. One of the security guards came to us and said, "Sir, we can do this in time for the tournament. I will help out." I smiled. I explained to them that this tour is a different one from the ones I used to do 2-3 years ago – that it was a fund raising event, and that I have nothing to give them for helping out. What they said to me touched my heart – "It's okay, sir. Alam namin po, nabalitaan namin. Kayo pa. Kami na po."

I smiled. Di lang ang panahon ang nakikisama, kabayan.




My phone rang. 'Twas one of my best friends, Jason Calubaquib, sponsor for the Bandido Cup 2009 trophy. We worked out our sched for the day. He arrived a few minutes later. I jumped into his car, and we proceeded to pick up the Championship Trophy in Manila. Little did I know that my good friend had a very nice surprise for me tha
t day. Instead of a single Championship Trophy, Jason had gotten me a set – a complete set of three – one for the champion, and another two for the 1st and 2nd runners-up! I initially tried to decline the surprise – thinking about the cost of such as set. He wouldn't let me. And with a heart like a kid at Toy Kingdom, I selected the trophy model that I wanted – one that was simple yet beautiful – just like the theme that I wanted for the tour befitting the man who we owe so much.

After having a quick lunch at Ramon Lee's, we headed off to Jason's house to pick up the amplifier, mic, mic stand, and other things we needed for the event. At 1:30 PM, Danny Hapon sent me an SMS stating,

"Champ. Nandito na ako. Walang tao!"

(Champ, I'm already here. There's no one here!" With hope, I texted back saying that it's ok. That the tour will start on 2 PM. That the participants may have been stuck in traffic. That all will be well.

Truth be told, I was saddened by the text message. I said to myself, "There goes my wish to double the amount that I initially set to achieve from the event!" The butterflies in my stomach that morning were justified, I thought. But I was happy at the same time. Contented. Because I have in my pool cue case the check for Php10,000 – my initial amount objective – and I got it a day after announcing the plans for Bandido Cup!

'Twas like 10 minutes to 2 PM when we arrived at Jason's house. We quickly gathered the stuff that we needed and proceeded to head back to AMF-Puyat Superbowl. We got stuck in traffic.


I received another text message from Danny Hapon,

"Champ, ang daming tao! Puno ang MCS!"

(Champ, the pool hall is full of people!) I was like surprised! After this text message, my cell phone rang like crazy from both phone calls and text messages – some of the participants were stuck in traffic and wanted to know if they would still be able to join, while others sent in their apologies for not being able to participate. I readily said yes to those coming in late - all of them! I will accommodate everyone – at least try so.

I also remember one text, "Bro, sorry. I cannot make it. I'm in Clark." I guess one of my good friends was participating in a car race that day. I texted back, "It's ok, bro. I understand."

We arrived at MCS at 2:12 PM. Unloaded our stuff via the elevator entrance. Arvin Arceo and Japoy helped us with our things – we were carrying so many stuff!! Cameras, amplifier, mic, mic stand, papers, our respective 2x4 cases, etc.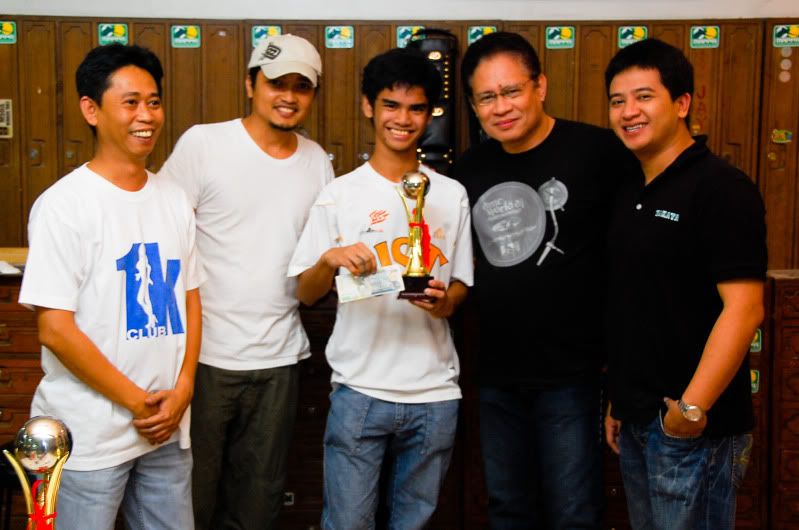 Words couldn't possibly describe the feelings I had when I exited the elevator and saw the AMF-Puyat Superbowl billiards hall! 'Twas filled to the hilt! All of the 20 pool tables were occupied! My brothers and sisters in billiards greeted me as we made my way towards the Committee Table. Jason said, "Champ, ang dami nila! Napuno mo ulit ang MCS!" I replied, "No p're. This isn't about me. Kayo! Napuno ninyo – kayong lahat - ang MCS! Para kay Edwin!"
I shook hands with them – my friends. I tried my best to shake the hands of every one and greet all of them! But, it was like impossible! I was in awe! They came! They all came! Maraming nagmamahal kay Edwin! (

So many people love Edwin!

)

Then another surprise! My friend who was supposed to b
e in Clark to race that day was there! 'Twas

Buboy Rabe

aka

Boy Pulbos

(BP)! "Thanks, bro."
was all I could say to him. BP was at the Committee Table – made up of BP,

Jojo Dimacali

(Shar
k), Vic Trinidad (Pacman), and

Chris dela Cruz

(Supremo). I was touched with what I saw - Vic, Jojo, and Boy already started with the registration and collection of entry fees – just Php300/person. 'Twas about 2:30 PM when Chris arrived. He had with him our tournament charts. And without a moment of pause after arriving, Chris quickly got himself busy and started with the groupings. I just have to say this again – Many thanks, mga kaibigan ko! You guys are one of the reasons for the success of the Bandido Cup! Without you, the tour wouldn't have gon
e on smoothly like it did!
Then I heard someone call me. "Champ! Champ!" 'Twas

Arvin Arceo

aka

Efren Bustamante

. He had with him one of his drivers carrying two boxes, i.e., a beautiful videoke machine and a microphone! "Champ, para sa raffle!" Arvin said with a smile. 'Twas another surprise for the day because I never asked my good friend anything for the event. Salamat ng marami, kaibigan!
Members of the Committee then asked for my opinion if we should close the registration. I read the list – a little over 30 pool players signed up and paid their entry fees. I looked at my watch, 2:50 PM. I requested that they hold it a little bit longer – 3:15 PM – the time that

Les Lacson

(The General) estimated he will be arriving at MCS – all the way from Antipolo. You see, 'twas The General's birthday that day. He
was supposed to be with his family an
d all - nowhere near a pool hall. Para kay Edwin, ika nga! Happy birt
hday Les! Thanks, man!

And it was a good decision – holding it off a bit longer. Because at 3:15 PM, a total of 52 players (myself included) signed up for the Bandido Cup 2009! If one plays by the numbers, 30+++ is a far cry different from 52!


At about 3:25 PM, I got on the microphone. I again felt butterflies in my stomach. You see, it's been a while since I did this. The stuttering will come
- I know. The shyness – it will. A sudden case of mental block - definitely. And more. I let go off the mic and approached one of my friends, asked him if he could emcee t
he event. He couldn't. Nahihiya sya. I pulled myself back to the mic.

I politely requested everyone to fi
nish their game. That the tour will start in 5 minutes. Surprisingly, everyone did! And in less than the time allotted! I briefly welcomed each and everyone.
I then called upon one of my good friends, and one of my mentors in the business world,

Jesse (Gonzales) Cambosa

, to give a few words. It was Jesse to whom I initially confided about the tour when it was decided that the event will take place at MCS. And about MAPPA joining the event.

Like always, he readily said yes to what I wanted to a
c
complish. What we all wanted to do. He gave me his word that I have and will have his full support. That we will always have him. That he will always support the Bandido Cup! Many thanks, bro! You have always been good to me. Asking nothing from me, but always giving me everything. Anything. You always introduce me to your business contacts, family, and friends, like I'm somebody - somebody like you - when in fact, I feel I am not. But, you wouldn't have none of it! Believing that I am such! I love you, bro! You will always be my brother.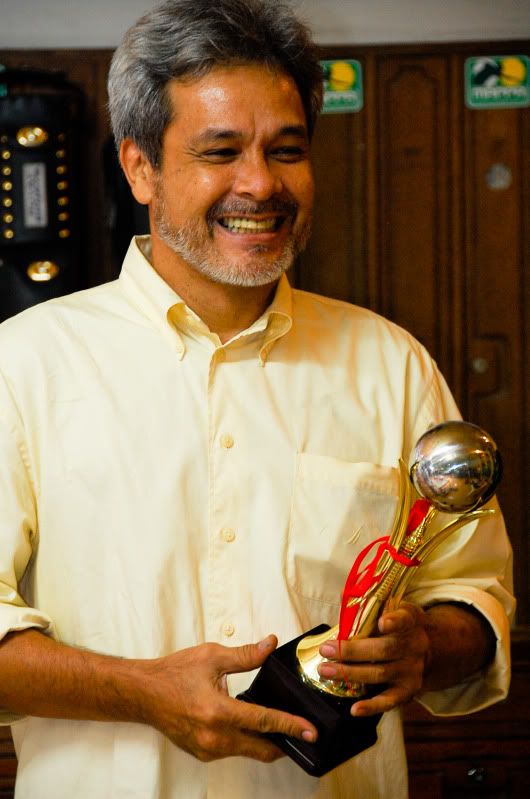 I then called on the presence of

Martin Misa

, aka

Sputnik

. From Martin:

I spoke about Edwin's artistry in cue-making, his crafted cues that sold as much as $10,000 and being exhibited in cue collector shows in America. Edwin was regarded among the top cue makers in the world. He studied Engineering in D
e La S
al
le University an
d followed it up with a course in Fine Arts at UST. He then took an x-ray tech
nician course in Pampanga and flew to the US to apply his new endeavor. He worked double
jobs as a Paramedic (he told me last August how bad he felt that he had helped save so many lives but he couldn't revive his father from a massive cardiac arrest). But even in the medical field, he could not keep his mind off pool. That was when he studied how to make cues and used the x-ray machine to examine how different cues were made and then went into apprenticeship and as he started his career.
Edwin came back in the late 90's and brought with him everything that he learned in cue-making in the US, much of which were his own innovations. He was an inventor of sorts as he even made his own CNC machine with scrap material. Edwin changed the quality of Philippine cues and transferred the technology to other local cue-makers. His bread
and butter was his Japan market, where his cues are very much in demand to this date.

But Edwin had his diversions in his cue artistry. Early in the 2000's, Edwin had the passion to help the local budding pool players. In 2002, he spearheaded a noble effort to get our lady players in the international scene with the organization of Quinta Sports. In 2003, he organized the association of freight forwarders to sponsor Dennis and Ronnie to go to Cardiff. Then for two years until he was slain, he gave his full focus in helping
the pool players. Unfortunately, he had to take sides in an effort to continue his dedication.

Edwin ended his partisan crusade with his life. It was an eye-opener at the expense of a good friend's life that made me cut ties with all partisan po
ol politics while I am still alive. It was not worth Edwin's life at all because he had no monetary stakes in his convictions. My conclusion is that if you are not seeking profits in pool, it is useless to lay your principles in the way of where money seeks multiplication.
But life goes on, and the commemoration of Edwin's life yesterday was stripped to bare camaraderie - without partisan politics - which was the biggest par
t of his involvement in pool - the love for the game. Sobrang takaw ni Edwin sa laro! Edwin always felt at home in friendly tournaments, and he is definitely at home here now!


'Twas then my turn:

With a joyful heart, I welcome each and every one
of you, friends, to the 1st Bandido Cup! It's nice to see everyone here on so short notice. This tour is not about why Edwin was killed. Nor who killed him. It is about remembering a man. A husband. A father. A brother. A friend. Most importantly, this is about helping out wi
th the
education needs of Bandido's children, who are just 4, 6 and 8 years old.

Truly, I am like speechless right now, mga kaibigan! A total of 52 players from five of the most popular and strongest billiards clubs in the metro re
giste
red! Clubs that I belong to! Billiards clubs that I am proud to be associated with!

We have the

Rackistas

(Rack 'Em Up) – led by my good friend Alvin Cahinhinan! We have

bilyar.NET

represented by my brother Buboy Rabe and good buddy Jojo Dimacali! We have our brothers from

Easy Pool Tutor Philippines

represented by Jogo and Cris Supremo! We also have the

YOung & and Young Ones Billiards Club

(YoYo) – my home club in Pasay City - led by my very good friend Vic Pacman! And we have the

Makati Pool Players Associati
on

(MAPPA) – my home club since 2004 – ably led my none other than my brother Jesse (
Gonzales) Cambosa!
Five billiards clubs!

And I kid you not

when I say to you now that these are the strongest and most popular in the metro! It pleases me to see you all here! All of us here registered to play for the Bandido Cup! Each and every one of us playing not for our respective colors but for one common goal – to help raise funds for the children of our fallen Edwin! Camaraderie! Kapatiran! Yan ang gusto ko! Yan ang ginusto ni Edwin! At yan ang ginugusto at gugustuhin natin! Kapatiran! Yan ang dapat!
Friends, it is also with a happy heart to let you know that our friends from

AZBilliards

, through the efforts of

John Barton

of

JB Cases

, have collected more than Php24,000! John has coordinated with

BlowFish

and

Linds

for receipt to Edwin's widow. Maraming salamat, John, BlowFish & Linds! Many thanks to my family at AZBilliards!
Truth be told, we make a living by what we get. B
ut we make a life by what we give. Kabayang Edwin, ang lahat ng ito ay para sa iyong ala-ala. Lalong-l
alo na, para ito sa mga anak mo. Maraming salamat sa pagiging ilaw sa aming lahat!
Mga kaibigan ko, maraming, maraming, maraming,
maraming salamat po! Mabuhay ang bilyar! Mabuhay ang manlalarong bilyarista! Kapatiran!
Another
good friend, Arvin Arceo, aka Efren Bustamante, then declared the Bandido Cup open!

"Rakrakan na!" ika nga ni Arvin. Everyone shou
ted the same! And the Bandido Cup was on its way!
Martin, you're right. 'Twas was a beautiful
evening with camaraderie, food, gift raffles, and fun pool. That what was better is that many of the
m ended their night by saying "see you next year"! The spirit shall live on.

As I was auditing the proceeds of the event, Arvin Arceo
, W
illiam, and Jesse Cambosa came up to me – individually. Arvin & Jesse have already made their donations (Arvin – raffle prize; Jesse – via MAPPA) but both decided to contribute more.


From Arvin, "Champ, paki dagdag mo. Para sa mga bata."

From Jesse, "Ang da
m
ing tao, Champ!
Nat
utuwa ako sa nakikita ko. Bro, please paki-add ito sa fund for the kids."

And from
another friend, who I know is currently a bit down with regards to finances, approached me and handed me Php200. I tried to decline because he already donated during the fund drive at MAPPA at alam kong medyo kapos sya. That their family's breadwinner in the United State
s has j
ust came home from the hospital. That money is a bit tight. But he insisted and wanted to do it anonymously. I just looked at him silently. Intently. I whispered, "Salamat, kapatid ko."


And Martin, I have to agree, the older guys were there in spirit and did not have winning the tournament in their hearts. They were there to show support and show the young ones what billiards is all about – KAPATIRAN!

The top four finishers
were
all kids 16 years old (El Silverio), 14 years old (Cedric 0811) 11 years old (PredatorB
lak1), and kid-at-heart (Charly Lopez)! Daddy Charly, you know how much I love you. Many thanks for the support. Many thanks for the eat outs! Many tha
nks for the kindness through the years. You inspire me. I love you so much, Dad.

My loving friends from the Philippine Team, i.e., Rubil
en Amit, Iris Ranola, & Mary Ann Basas, presented the 2nd Runner Up award (trophy & Php 250 ca
sh priz
e) to

PredatorBlak1

(Gillian) and 3rd Runner Up (Php 250 cash prize) to

Charly Lopez

.

@Rubilen: Many thanks for the beautiful bracelet you gave me that night! I like it very much! I will always treasure it! Maraming salamat, Bingkay!
Jesse (Gonzales) Cambosa (MAPPA President), Arvin Arceo (MAPPA Tour Director), & Jason Calubaquib (Trophy Sponsor) presented the trophy and Php 1,000 cash prize to the 1st Runner Up –

Cedric 0811

.

Finally, Martin Misa, aka Sputnik presented the Championship trophy and Php
2,000 cash prize to

El Silverio

. I wanted Martin to do the honor. Being one of Edwin's best friends, it seemed like 'twas Edwin presenting the award and all to the cha
mpion that night. And to me, it actually felt like such.
From an initial goal of Php10,000 to a gross of about Php40,000 –
wala akong masabi! Dahil ito sa inyo, mga kaibigan ko! Galing ito sa inyong lahat,
mga kapatid ko sa b
ilyar! Para sa kanila ito – sa mga anak n gating nag-iisang Bandido!
To each and every one who helped in and at the event; supported it; who gave until in hurt; who made themselves available for the Bandido Cup; and for all of you who believed:



Maraming, maraming, maraming, maraming salamat po!
Kapatiran!
Mabuhay kayo!