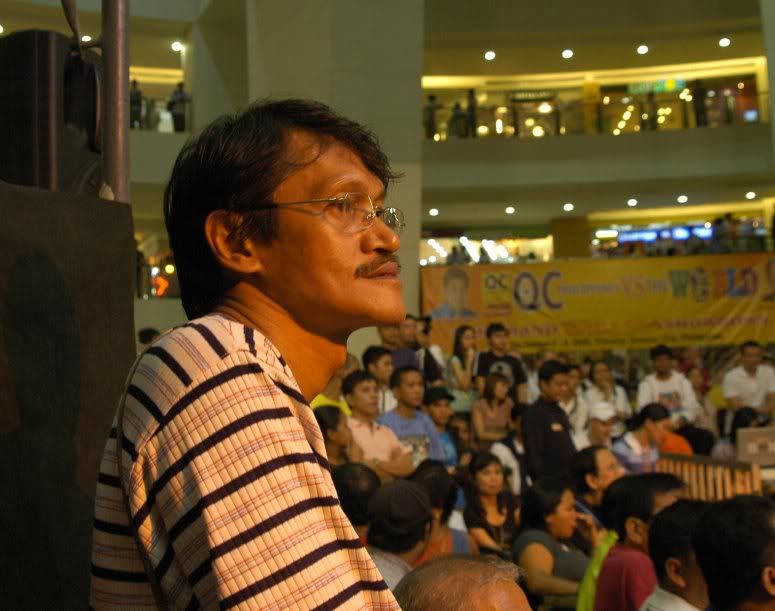 Edwin Reyes

aka

Bandido

was laid to rest at the Loyola Memorial Park on April 22, 2009.

Here is a copy of another post made by Martin Misa, aka Sputnik, one of the close friends of the Philippines' great cuemaker. The post was first published in AZBilliards.


We laid Edwin's remains to rest yesterday after Edwin's Italian parish priest celebrated Mass for him. It was a simple ceremony which went according to the family's wishes and capacity. Edwin's mom whispered to me that it would not have been almost unceremoniously with Edwin around because he was so reliable in fixing things during family crises.

The simplicity of his funeral said many things and the simple act of paying respects to Edwin was the only thing that mattered. The first heralded player to pay respects on the first day of his wake was Dennis Ocrullo who was very moved. Warren Kiamko followed. Gomez, Alex, Django, Lining, Gabica, Valle, Biado were some of the many other players who came. Revo David came and left obviously shaken. Verna Mariano spent a lot of time there. Perry himself was shaken because it was him and Edwin who were together most often but he never missed a day in the wake. I know that Perry has plans in helping out Edwin's family within his own capacity of being a friend to Edwin. Ish Caparras, who worked closely with Edwin in organizing tournaments, also went daily. Bong Ilagan came and he still had a hangover from the two-hour talk he had with Edwin the day before Edwin was executed. Most of thoe who worked under Edwin's cue-making employ also came. Even his cue competitors came. The EPT guys were there too. Others phoned in their condolences amidst bad weather. Senator Villiar sent in the lone beautiful wreath. The skies in the three summer days of Edwin's wake cried the first hardest rainfall of the year. Today, I sit here typing with bright clear skies.

In the Mass and burial were three people who made Edwin smile. One was a humble junkshop owner whom Edwin recently gave a helping hand and I was there to witness it. Edwin said that it was meant to give this guy a big break in business. They became friends because he was a source of recycled material Edwin used for his machines. Edwin invented a CNC woodcarving machine out of junk and he was in the process of making another one for his merger with Lindsey. This guy represented Edwin's life outside of pool.

The other was Lando Vicente. Lando works for Puyat Sports and Edwin shared the same service of caring for the players. In the background of the heavy rains, I could hear Lando almost frantically call other players for their last chance to go see Edwin off. Edwin once told me that he always coincidentally saw Lando even in the provinces and they always shared a lot of San Migs and long conversations.

The third was Chris "PoolAdict" form Norway who represented Edwin's friends across the oceans. Chris was almost mute in going through the whole thing. His eyes saw and his mind understood.

When I got back to this forum, I had to dig into pages as Edwin's threads seem to have been buried with him. Yes, media coverage of Edwin's death has been underplayed and hidden in the back pages of two newspapers. Very recently, even Makabenta's fart came out in the many newspapers. I do not see nor am I suggesting that there is a conspiracy, but the silence is indeed deafening. Very noticeable was the absence of some top movers in Philippine pool, pro or con Edwin. Some of those whom Edwin worked with and those whom Edwin disagreed with failed to rise above themselves.

Perhaps Edwin's death is being seen as a huge setback in having to uplift the industry. Has he served his purpose? I am sure Edwin sees everything clearly now with the simplicity of his funeral. He has to accept the picture for him to rest in peace, and I do not doubt his capacity to accept and forgive.






A-Kid

:

Why did this had to happen during our time? This was the question that I could not answer. Till a few moments ago.

Firstly, the question and its answer wasn't for me. Nor for you. Nor for anyone else for that matter. The question and answer was for Edwin himself. Now, my kababayan knows.

And the answer to the question enlightened me. You. Us. Everyone. Yes, I am still saddened with our loss. But I do not grieve anymore.

Edwin,

Much thanks for the smiles. Many thanks for the kuwentos. Thank you for accommodating my concerns. Thank you very much for always having me.

Maraming salamat for letting me know the answer to the question.

Maraming, maraming, maraming, maraming salamat po, kabayan Edwin!

For being the light. Our light when you were still with us. And for continuing to be so - even after your death.

Rest in peace kapatid namin sa bilyar...