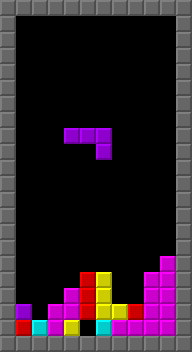 Remember
Tetris?
Borne from his fondness for the classic geometric puzzle board game "Pentominos", an innovative Russian computer programmer named Alexey Pajitnov develops an electronic variant using just four building blocks (Tetris from Greek "Tetra" meaning four) for the computers at his workplace, the Academy of Sciences in Moscow.
When he gives it to colleagues, it becomes an instant, hugely addictive hit, and shortly thereafter spreads like wildfire via floppy disk throughout the Soviet Bloc's computer literate.
The instant rise and continued success of Tetris has had profound and virtually incalculable impact on the video game industry. It is typically listed as one of the top 5 video games of all time in magazine and Internet panels every year as much for its influence as for its gameplay.



Tetris (Russian: Тетрис) is a falling-blocks puzzle video game, released on a large spectrum of platforms. Alexey Pajitnov originally designed and programmed the game in 1984, while working for the Dorodnicyn Computing Centre of the Academy of Science of the USSR in Moscow. Pajitnov has cited pentominoes as a source of inspiration for the game. He derived its name from the Greek numerical prefix "tetra-", as all of the pieces contain four segments, and tennis, Pajitnov's favorite sport.[1]
The game (or one of its many variants) is available for nearly every video game console and computer operating system, as well as on devices such as graphing calculators, mobile phones, portable media players, and PDAs. Tetris has even appeared as part of an art exhibition on the side of Brown University's 14-story Sciences Library [1]. Tetris consistently appears on lists of the greatest video games of all time. While versions of Tetris were sold for a range of 1980s home computer platforms, it was the hugely successful handheld version for the Nintendo Game Boy launched in 1989 that established the reputation of the game as one of the most popular ever.