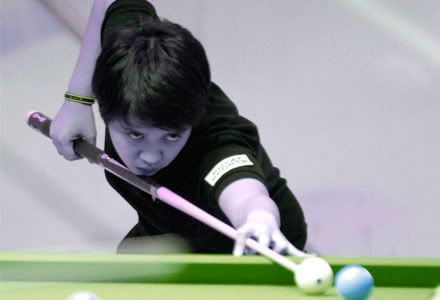 2010

Yalin Women's World 10-Ball Championship

Update: Chinese Taipei's Chen Tsai Pei won against

Rubilen Amit

, aka Bingkay, in a duel of leaders, scoring a 6-2 win to sweep Group I of the 2010 Yalin Women's World 10-Ball Championship at the Nuvo City in Libis, Quezon City.
The 27-year-old Chen Tsai Pei, the reigning China 9-Ball Open winner, took five straight racks after giving up the opening frame to carve a victory over Rubilen Amit, the reigning World 10-Ball champion, and top their group with a 5-0 (win-loss) performance.
Chen capped her win of Amit with three straight combinations as she turned a 0-1 deficit into a 5-1 lead. Despite the loss, Bingkay still made it through the knockout phase among 24 players with a 4-1 slate. The knockout stage starts tomorrow, Thursday.
Up 2-1, Chen Tsai Pei credited the victory over the former World 9-Ball runner-up and double gold medalist in the 2009 Laos Southeast Asian Games to her powerful breaks and safety shots. In addition, she made 2-10, 1-10 and 1-10 combos in the fourth to sixth racks and could have finished the match if not for a missed shot on the 8-ball. This allowed Rubilen Amit to snatch the seventh rack and cut her deficit to just 2-5.
However, the Philippines' First Lady of Pool made a foul shot in the eighth rack, which allowed Chen to clean up the table for the win.
Iris Ranola came one rack shy of advancing to the knockout stage. However, she dropped a 2-6 setback to Japan's Miyuki Fuke in Group 5. Ranola, a runner-up in the 2008 US Open, finished in a five-way tie for first place, but wound up last after the tiebreak. She ended up with the lowest total games won.
Korean Yu Ram Cha, who defeated Spanish Amalia Matas, 6-2, clinched the first berth with 27 won games while Fuke and Chinese Wu Jing sealed the other spots with scores of 20 and 21, respectively. Matas actually tied Fuke and Jing with 25 apiece but ended up with the lowest total games in another tiebreak.
Former world champion Kelly Fisher posted a 6-3 win over 12-year-old Filipina Gillian Go to top Group 3 with a 5-0 record while Austria's Jasmine Ouschan humbled Chun Zheng Xiao of China, 6-1, to finished unscathed in Group 7.
In Group 4, Yu Han of China humbled heavy favorite Ga Young Kim of Korea, 6-5, for a 5-0 sweep. However, the former three-time US Open champ and East Asian Games gold medal winner also advanced with a 4-1 card.