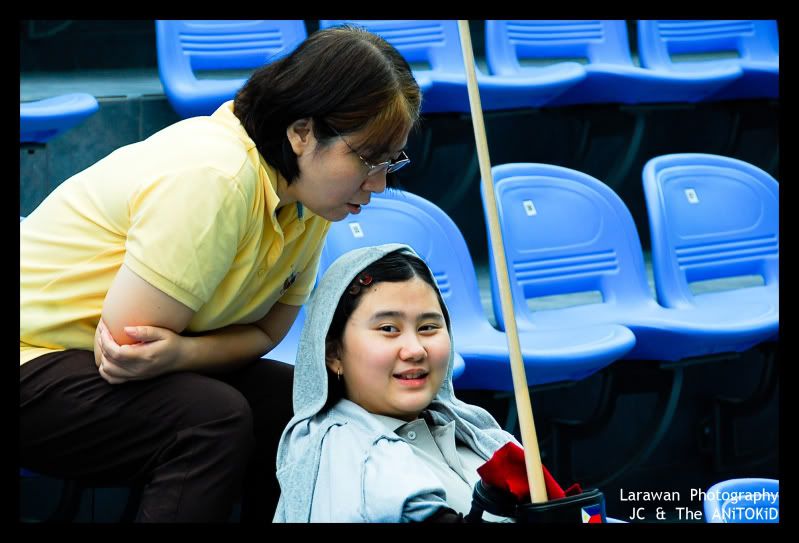 Women's World 10 Ball Championship

Update:

Here is a very good read on billiards' newest sensation,

Gillian Go

! The article was written by Joey Villar and was first published in the Philippine Star newspaper. Enjoy!

*Credits for the article all go to Joey Villar and the Philippine Star.



RP pool phenom hurdles top Australian
By Joey Villar

Young Gillian Go marked her debut on the international pool stage with a shocking 5-3 victory over Australian No.1

Lyndall Hulley

as she joined the early leaders in the JBETpoker.net

Women's World 10-Ball Championship

at the Sky Dome of

SM City North Edsa

in Quezon City yesterday.

Go, who survived the grueling qualifying stage to gain a spot in the $75,000 event, overcame jitters then flashed superb shot-making and positional skills rarely seen in an 11-year-old competitor. She took the last two racks to shatter a 3-all count for the victory.

"I was nervous at first because this is my first international tournament," said Go, who missed some easy shots in the early going but recovered her bearing in time to turn back her stunned Aussie rival.

"I started to feel it as the game progresses, I started to relax," said Go, an incoming Grade 6 student at Jubilee Christian Academy in Quezon City.

The victory put the Filipina bet in the early lead in Group 5 along with Taiwanese Liu Shin-mei, who blanked American Tina Meraglio, 5-0, in the tournament presented by Dragon Promotions in cooperation with JBETpoker.net.

RP mainstay and qualifier

Mary Ann Basas

also hurdled her opening-day match, blasting Japanese Akimi Kajitani, 5-1, to share the early lead in Group 4 with Irish Julie Kelly and American Sarah Rousey. Kelly beat Chou Chieh-yu of Chinese-Taipei, 5-2, while Rousey won over Amalia Matas of Spain, 5-2.

But the two other local bets – Zara del Rosario and Nina Pangilinan – fumbled as they took a pair of 0-5 losses to their respective rivals.

Del Rosario, a 30-year-old Chicago-based Fil-Am, bowed to Taiwanese Lin Yuan-chun in Group 2, while Pangilinan, a wildcard entry, lost to Grace Nakamura-Bobcock of Canada in Group 1.

RP No. 1 Rubilen Amit also lost to Kelly Fisher of England, 1-5, but bounced back with a 5-1 win over Chou Cheih Yu of Chinese Taipei to stay in contention.

RP bet Mica Claveria edged Eunji Park of Korea, 5-3, to likewise boost her stock while Iris Ranola fell to Tamara Rademakers of the Netherlands, 2-5.

In other matches, former world No.1 Allison Fisher of England subdued Kristi Carter of the US, 5-2; Verokika Hubrtova edged Apsra Punhoo of South Africa, 5-4; Angeline Ticoalu of Indonesia squeaked past Kim Jones of the USA, 5-4; Tan Hsiang-ling of Chinese-Taipei slipped past Chichro Kawahara of Japan, 5-4, Estelle Bijnen of the Netherlands trounced Yukiko Oi of Japan, 5-1; and Miyuki Fuke of Japan whipped compatriot Akio Ohtani, 5-2.

Go, who pleaded her father Carlos to teach her the sport at age five after watching pool legend Efren "Bata" Reyes play in a mall, had a number of glaring miscues, including an easy corner shot on No. 10 in the third rack with the match tied at one.

But Hulley, the best pool player Down Under, also missed on her turn, enabling the Filipina to take the rack and the lead.

Go kept the pressure and took a 3-1 lead but Hulley battled back to sweep the next two racks and draw level.

A Hulley scratch and a faulty shot on an easy corner shot on the black 8 enabled Go to wrest a 4-3 lead.

Go committed another error after her loose, black shirt touched the five-ball while attempting a shot.

But the Aussie failed to cash in on her chances and twice missed on combinations, including on the 4-8, allowing Go to steal the rack and the win.

The top four players in each of the eight groups will advance to the knockout stage in the Last 32 of the event backed by The Philippine STAR, Billiards Managers and Players Association of the Philippines, ABS-CBN, SM Mall North Edsa, Magic 89.9, Predator Cues, Takini Billiard Cloth, Aramith, Puyat Sports, and Bugsy Promotions and recognized by the Billiards and Snooker Congress of the Philippines.