Jeffrey Elliott

, a billiards buddy from

AZBilliards

and

bilyar.NET

(Masirib5), spent six unforgettable days in the Pool Capital of the World! Known as Jeff to close friends (and Anting-Anting Jeff/Double A-J to his best pals at

Larawan Photography

) Masirib5 arrived on June 30, 2009 – direct from Cool, California.

Jeff went straight to the AMF-Puyat Superbowl at the Makati Cinema Square in Makati City to meet me after checking himself in at a condominium unit in Libis, Quezon City. After exchanging plesantries, I introduced him to members of the
Makati Pool Players Association
(MAPPA), including my good friends

Lito de Castro

,

Jason Calubaquib

,

Jesse Cambosa

(MAPPA President), and World Champion

Rodolfo Luat

, aka Boy Samson.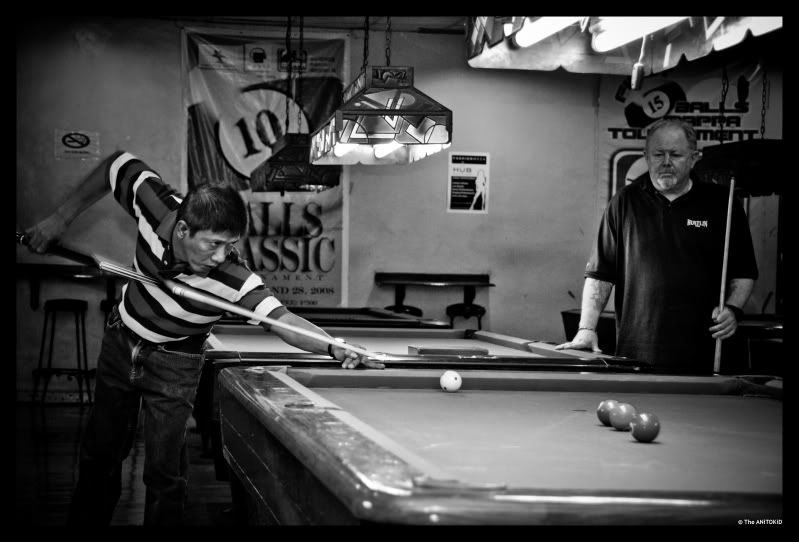 Masirib5 played his heart out until 11 PM that night, readying himself against a one-on-one match up against Rodolfo Luat the next day! Armed with
his solid-hitting Chuck Starkey cue, Jeff played a series of one pocket games against Luat. 'The former also received one pocket lessons from the world champion, which Jeff took by heart. I was very much impressed with my friend's desire to improve in his game of choice – one pocket. And I was more amazed at how well Jeff and Rudy bonded with each other!

The following day, Jeff had his first taste of money game match-ups in the Pool Capital of the World! Jeff played 9-ball against one of my good buddies, on and off the pool circuit, Engineer

John Dale Tubale

aka JTube of bilyar.NET. They played 9-ball for Php500/set. And guess what! Jeff won the series against JTube! No kidding!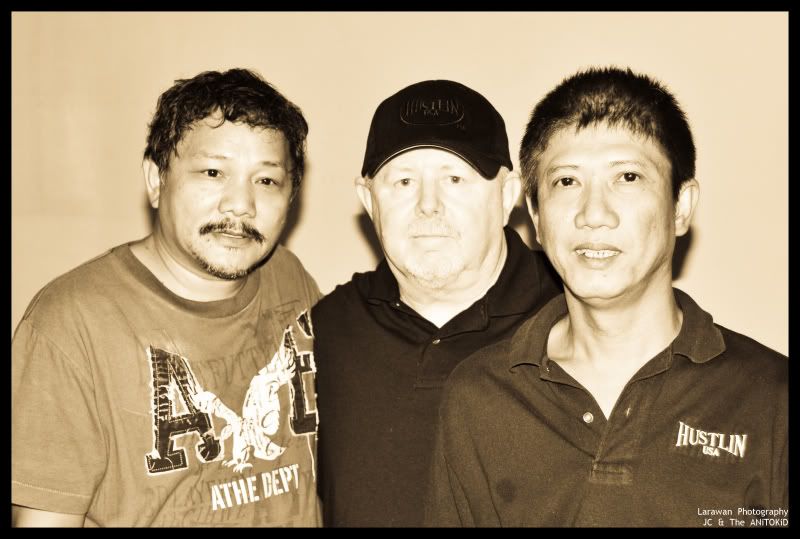 Still, what happened, e.g., matches and lessons with Rodolfo Luat, money game wins, etc., was just one of the many surprises in sto
re for my good friend from Cool, California. Indeed, July 3, a Friday, was a dream come true for Masirib5. As Jeff was minding his business – sitting near the locker area of the pool hall and fiddling with his s
tuff – The Magician,

Efren Bata Reyes

, went up to him and introduced himself to Jeff! You should have seen the expression on Jeff's face when Efren Reyes shook hands with him! Jeff was like stunned and all!

They chatted the minutes away as Efren readied himself for an interview with the Pillar of Broadcast Journalism,

Cheche Lazaro

, for the

Probe Profiles

television program. And yes, Jeff got to be a part of the show, too! He was interviewed (both off- and on-cam) by Cheche Lazaro, about his thoughts on the greatest pool player ever, developments in the sport, and what-have-you's! But, we're not done yet! Jeff was also filmed playing a series of one-pocket games with Efren Reyes! Yes, you've read right, frie
nds! Jeff played against Efren Reyes – and everything was filmed!


Little did Jeff know that the day wasn't o
ve
r
yet! I wanted Jeff's visit to the Philippines to be really special. After all, it was his first time
here, t
hus, I guess there should be a first time for everything pool related. And to complete the se
ries of firsts for one of the coolest dudes I have met in my life, I sponsored him in his fi
rst-ever tournament in the Philippine Island – YoYo's 9-ball tournament at the Hobbies of Asia in Pasay City! The outcome of the tour surprised everybody, and I mean every one! J
eff placed 2nd runner up in his first tour! He beat notable players from my club, including past champions and upcoming superstars! True to form, Jeff and his Chuck Starkey were a force to reckon with that week! You were just awesome, kapatid!

More activities followed for my buddy, including di
nner at Dampa, Macapagal, a place where one actually buys live seafood (e.g., prawns, crabs, s
quids, and lobsters) and take them to restaurants in the area to be cooked according to one's taste. Jeff also had a hell-of-a-good time in Tagaytay, where he mingled with the locals and sampled some of the Philippines' favorites, e.g., adobo, bulalo, and pansit bihon.
Indeed, I believe that my good friend, Jeffrey Elliott, aka

Masirib5

, aka

Anting-Anting Jeff

, had a grand time that week. Why so? Well
,
for starters, Jeff is seriously contemplating on retiring here! The beauty of the Philippine
Islands and the warmth of its people have convinced Jeff to move in here as soon as possible! And to quote Jeff,

"I have never met a Filipino I didn't like!"
To my kapatid, Jeff:

Having you here was a blast for all of us, bro! I miss the fun, camaraderie, and friendship! Here's hoping to see you soon – very soon!
More on Jeffrey Elliott aka Antin
g-anting Jeff



Masirib Guro Jeffrey Elliott

studied several martial arts incl
uding Renbu-kai-Karate, Kenpo Karate, boxing and Inayan Eskrima.

Masirib Guro Elliot studied Renbu-kai Karate at Samurai Karate School in San Jose, California from Sensei Bob Cory, Terry Ellis and
Ted Orssten and Kenpo Karate from Sensei Ted Orssten at the american Karate School in San Jose, California. He studied boxing at Garden City boxing Club in San Jose since 1979 from boxing coach
es Gus Spencer, Eddy DeVaughn and Joe Amato. Guro Elliot is a USA Boxing Coach and has trained local amateur and professional boxers since 1985.

Guro Elliott began studying Eskri
ma from Suro Mike Inay in 1974. During the latter half of the 1970's, he traveled with Suro Inay
to Stockton, California to study privately with Grand Masters Angel Cabales and Max Sarmie
nto. He also assisted Suro Inay in creating the West Coast Eskrima Society. Guro Elliott attained th
e rank of Masirib Guro from Suro Inay in December 1999.