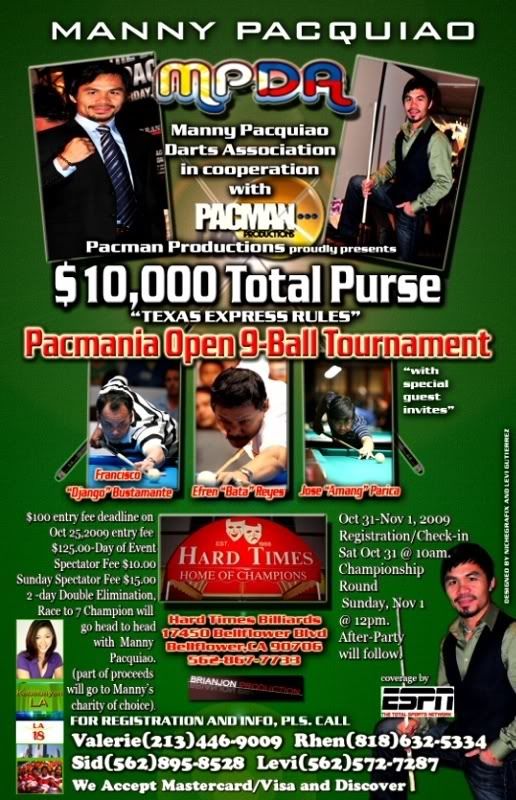 Billiards

buddies and pool player friends, guess what!

The Action Report

will be providing live streaming coverage of Filipino boxing sensation

Manny Pacquiao

's

Pacmania 9 Ball Open Tournament

presented by the Manny Pacquiao Darts Association in cooperation with Pacman Productions!

And I kid you not!



The Open 9-ball tournament will take place at

Hard Times Billiards

in Bellflower, California, on October 31 and November 1. Hmmm, maybe my brother from Cool, California – Jeff Elliott aka

Masirib5

- would be able to watch this, too - LIVE! The event will feature some of the worlds best players, including

Francisco Django Bustamante

,

Jose Amang Parica

, and

Roberto "Superman" Gomez

, along with the top West Coast players. Lest I forget, the greatest to ever play the sport,

Efren Bata Reyes,

has been invited as well!

The Pacmania 9 Ball Open Tournament a charity event with the profits going to Manny Pacquiao's foundation and flood relief for the recent disaster in the Philippines, i.e.,

Ondoy

and

Pepeng

.


Live streaming coverage of the Pacmania 9 Ball Open Tournament will start at 10 AM Pacific Time, Saturday, October 31 at The Action Report. Saturday's coverage will be free and Sunday's coverage will be Pay Per View with all profits going to the charity causes. The Pay Per View price will be $15 for the final day of the tournament and a special challenge match after the event.

Oh wait! There's more! The challenge match will feature a special player in action! The winner of the tournament will face Pambansang Kamao Manny Pacquiao in a challenge match after the tournament.

Again, it's Manny Pacquiao and the world billiards community come this Halloween weekend! Join the Pacmania 9 Ball Open Tournament! Have a great time while supporting worthy charities! See you there!
"The AnitoKid supports worthy charities!"



*Did you enjoy the post? Did you find it interesting?
You know what to do...:)