Known as the "

Messiah of the Turntables

" and the "

Prince of Urban Music

," he is none other than

DJ Babey Drew

. And believe you me, he will be coming to Manila for two nights this October 2009!

Sponsored by Seair, DJ Academy, Channel V (The Official Music Channel), The Oxford Suites Hotel, Club LAX, Ascend Superclub, Skye, DMC Philippines, Ginebra San Miguel Premium Gin, Don Enrique Mixkila, Magnolia Healthy Beverage, Coke, Purple Label Productions and Green Toad Advertising Concepts with the Manila Bulletin, Manila Times, Max 103.5 FM, Wave 89.1 FM, 99.5RT, Magic 89.9 FM, getzmo.com, yehey.com and

www.anitokid.blogspot.com

as media partners, DJ Babey Drew's shows kick off on October 9, 2009, Friday, at

Club LAX

in San Miguel by the Bay, SM Mall of Asia.

This will then be followed by another show on October 10, Saturday at the

Ascend Superclub

in Bonifacio High Street, The Fort, Taguig City.

DJ Babey Drew (Andrew Bisnaught) is the official DJ for the Grammy-nominated, R&B singer Chris Brown. Born and raised in Queens, New York, he began by spinning reggae, his first musical love. At the age of 12, and as he grew older, he diversified his skills and learned to play hip-hop, R&B and Top 40 hits. He attended Hampton University and broke into college radio at WHOV 88.1 FM. Starting at an entry level position, he worked his way up to being an on-air DJ. In 2000, he launched "The BabeyDrew College Tour 3", touring colleges across the US.

What separates Drew from the rest is his ability to rock the MIC and spin records with an unbelievable intensity! Drew is not only the OFFICIAL DJ for R&B sensation Chris Brown: he has also opened for numerous artists including Camron, Chingy, Ying Yang Twins, Bow Wow, Sean Paul, Lil John, Ludacris, Elephant Man, Twisa, Method Man and others.

This event is a fund raising project of

DMC Philippines

for the benefit of

Ondoy

victims throught ABS-CBN Foundation.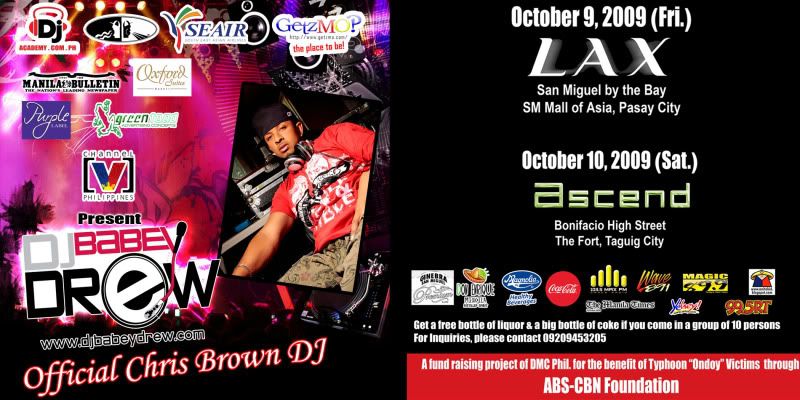 For his Manila shows, DJ BabeyDrew is gonna roc
k the house with his own brand of beats that made him a superstar in America and in Chris
Brown's kingdom.

And I kid you not!

So don't miss the chance of watching this ghetto wonder as he blazes through the streets of Manila.

DJ BABEY DREW Live in Manila is brought to you by

DMC PHILIPPINES

.

For inquiries, call 0920-945-3205

.
"Help and support Ondoy victims.The AnitoKid"



*Did you enjoy the post? Did you find it interesting?
You know what to do...:)