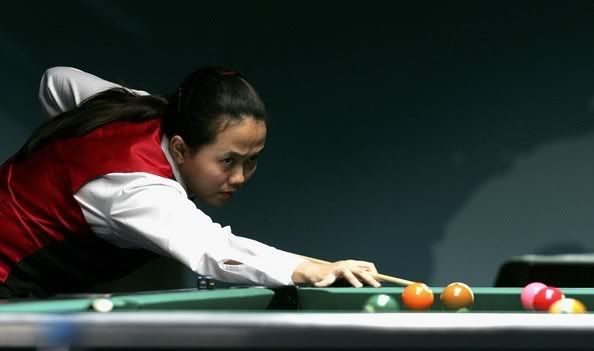 Congratulations to Filipina pool player Iris Ranola, the first double gold medalist for Team Pilipinas at the 26th Southeast Asian Games!
The 26-year-old Ranola won 7-2 against her teammate, World 10-Ball Champion Rubilen Amit, in the women's 9-ball billiards event. She earlier won the coveted gold in the women's 8-ball event held at the Opih Convention Hall in Jakabaring.
For those not in the know, Ranola's had a spell of dehydration, which caused her to faint in her hotel room last week.

And I kid you not!
Ranola's win translates to another Php100,000 in government-sponsored incentive. She plans to use her winnings for her father, who is currently stricken with cancer of the throat.
Congratulations Rubilen and Iris! An all-Filipino finals is always a treat for us all! We are very proud of you! Mabuhay!