Typhoon Ondoy floods the

Pool Capital of the World

!

It was around 9:30 AM when I started the car to go out and participate in a

tournament at the

billiards

Hobbies Billiards Hall

in Macapagal Avenue, Pasay City. I noticed that the first street after the village's gate was flooded. It wasn't the ankle-deep water that surprised me – 'twas the fact that the street was flooded! 'Twas the first time I've seen the street as such! I decided to drive back to my house and wait for the weather to clear up.

But clear it did not! The rainfall brought about by tropical depression "Ondoy" to Metro Manila and nearby areas in a span of six hours was the most in recorded history! It even surpassed the previous record for the Pool Capital of the World in 1967!

And I kid you not!



The amount of rainfall from Ondoy from 8:00 AM to 2:00 Pm measured 341 millimeters, breaking the record for the highest 24-hour rainfall of 334 millimeters in the metro recorded by Pagasa in June 1967. The amount nearly equaled the Philippines' average monthly rainfall. And it is still raining as I'm writing this!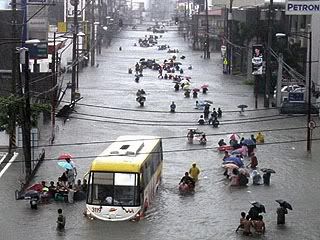 A thousand thoughts rushed through my mind as I watched on TV images of flooded streets all over the metro and throughout Luzon. These include stranded commuters and families, crying children, strong currents, power outages, overflowing dams, rescue teams, rubber boats, National Disaster Coordinating Council, weather bulletins, unity, helping hands, much-needed relief goods, public order, poor drainage system, pollution and garbage problem, climate change, and more!

Prayers to my affected kababayans.



Please stay safe, friends!




Ondoy Storm Update:

At least 25 provinces of Luzon including Metro Manila are placed under state of calamity by the government.

Weather bulletin from Philippine Atmospheric
Geophysical and Astronomical Services Administration (PAGASA): Signal No. 2 remains in Aurora, Quirino, Nueva Vizcaya, Nueva Ecija, Pangasinan, Tarlac, Zambales, Pampanga, Bulacan, Rizal, Northern Quezon, and Polilo Island.

Signal No. 1 is up for Isabela, Mountain Province, Ifugai, Benguet, La Union, Ilocos Sur, Laguna, Cavite, Batangas, Mindoro provinces, Lubang Island, Marinduque, Camarines Norte, Bataan, Metro Manila and the rest of Quezon.

Typhoon Ondoy continues to move with a maximum sustained winds of 85 kph near the center and gustiness of up to 100 kph. It is expected to leave the country's area of responsibility by Monday morning.



Licensure Examination for Teachers

in Metro Manila on Sunday, September 27, 2009 is postponed.



Bar exams

scheduled for September 27, 2009, is post
poned to October 4, 2009
"Breaking news from The AnitoKid!"



*Did you enjoy the post? Did you find it interesting?
You know what to do...:)