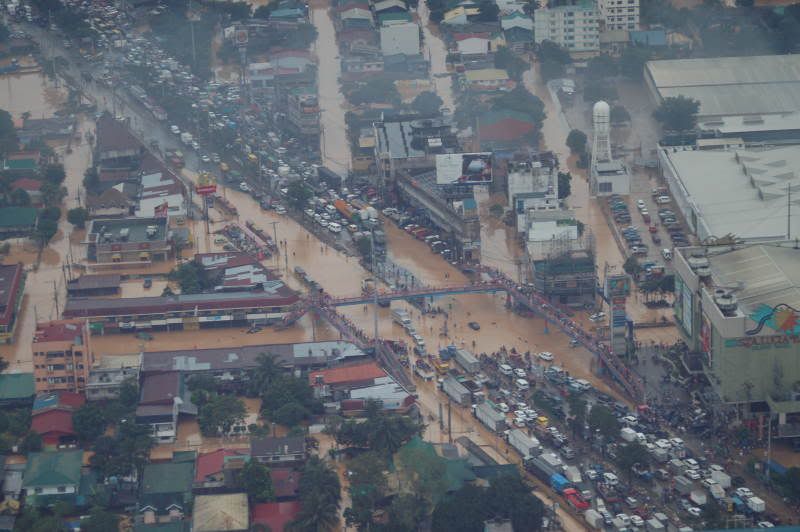 Storm Ondoy

Updates: Here is an update from the Philippine Daily Inquirer, friends. Credits and all go to the article's authors and publisher.




Month's worth of rain; storm Ondoy kills 40
By Edson C. Tandoc Jr., Nikko Dizon, Marlon Ramos
Philippine Daily Inquirer

Nearly a month's worth of rain fell in just six hours over Metro Manila Saturday, triggering the worst floods in nearly 40 years, stranding people on rooftops, causing wide-spread blackouts and killing at least 40 people, officials said.

"In my experience, this is the worst that I have seen," Defense Secretary Gilbert Teodoro said as he described how authorities grappled to deploy

limited resources

amid a barrage of pleas for help after Storm "Ondoy" slammed ashore.

The government declared a state of calamity in Metro Manila and 25 provinces in Luzon as the massive flooding paralyzed businesses and transportation.

The calamity declaration allows officials to withdraw

emergency money

for relief and rescue.

While the weather bureau had predicted Ondoy would hit the country, its severity was not expected.

The massive floods turned wide areas of the metropolis virtually into a sea.

Families from across various sectors, including the middle class living in gated communities, were among those marooned in their homes, many stranded on their roofs.

The Philippine Navy said it was the first time the Navy had received such a huge number of simultaneous calls for help.

Chelo Banal-Formoso, a Philippine Daily Inquirer editor, sent this text for help: "We are in Goodrich Village right next to a creek. Our whole first floor is now flooded almost to the ceiling. Water is still rising. I have a son with autism who needs to be in a place with electricity. My brothers tries but could not get us in ordinary cars."

Toni Carbonell, NGO administrator, was also stranded with her daughter and her two-month old grandchild. She lives at Block 3, Lot 30, Narra St., Dacon Homes in Cainta, Rizal.

Lanie Miculob, manager of Sy-owned Highlands Prime, was also stranded and lives at 4B Block B Fernandez St., San Francisco del Monte, Quezon City.

Candice Lim, Yes Magazine staffer, who lives in Provident Village, Marikina, sent this SOS via text: "No one is sending help because the current is too strong. Inanod na kotse."




Commuters plodded through floods that reached as high as five meters in some places, police said, while many motorists were forced to drive around in circles to avoid getting stranded in the surging waters.

Dozens of vehicles stalled in Manila, Makati, Pasay, Quezon City and Taguig.

Several thousand people fled to evacuation centers.

Defense Secretary Teodoro said three people were killed in Muntinlupa City, while two were killed in Quezon City.

Thirty-five other people were killed in Rizal province, Tony Mateo, a member of the Rizal provincial disaster coordinating council, told the Inquirer Saturday night. He said they included 16 people killed in Tanay, 10 in Angono, five in Baras, three in Rodriguez and on in Teresa.

President Gloria Macapagal-Arroyo rode an Army truck to check the extent of flooding around Malacañang. She later took the Light Rail Transit (LRT) to attend a meeting of disaster officials at Camp Aguinaldo.

The Metropolitan Manila Development Authority (MMDA) reported that at least 90 percent of major thoroughfares in the capital was submerged in floodwaters, bringing traffic in several portions of EDSA (Epifanio delos Santos Avenue) to a stop for hours.

"This is the worst flooding I have seen since I was born here," said Parañaque City's 60-year-old Mayor Florencio Bernabe.

Pateros Mayor Joey Medina said his town last experienced floods as severe as Saturday's when Typhoon "Yuling" pounded Metro Manila in 1972.

"Ondoy brought a month's worth of rain to Metro Manila in one day," the spokesperson of the Philippine Atmospheric, Geophysical and Astronomical Services Administration (Pagasa), Nathaniel Cruz, told the Inquirer.

Metro Manila's average rainfall for September is 391.7 millimeters. In six hours, Ondoy dumped 341 millimeters of rainfall.

"It's unusual," Pagasa weather forecaster Bernie de Leon said. It was also the worst case of flooding seen by Pagasa in recent years, he said.

De Leon said the heavy rainfall might be a "manifestation of climate change." He added: "It's not conclusive but it could be one of the reasons," he said.




Nearly 2,000 people were evacuated in Manila and surrounding areas, an initial report from the National Disaster Coordinating Council (NDCC) said.

The NDCC reported that as of Saturday afternoon, some 1,300 individuals were rescued in San Mateo, Rizal alone. Houses were swept away as the Marikina River rapidly swelled.

The following provinces were placed under a state of calamity: Aurora, Quirino, Nueva Ecija, Nueva Vizcaya, Pangasinan, Tarlac, Zambales, Pampanga, Bulacan, Rizal, Quezon, Isabela, Mountain Province, Ifugao, Benguet, La Union, Ilocos Sur, Laguna, Batangas, Cavite, Mindoro Occidental, Mindoro Oriental, Marinduque, Camarines Norte and Bataan.

The Philippine Navy spokesperson, Lt. Col. Edgard Arevalo, said he received numerous phone calls from people he did not know, all asking for help, especially as the night crept in.

"Some of them said they were already staying on the roof of their houses. Some were already begging for help, while some were very angry," he said.

But he explained that responding to all calls for help was difficult considering the limited number of rescue teams, rubber boats and trucks the Navy had.

The Philippine Air Force also could not fly its helicopters in the morning because of the downpour.

Early NDCC reports said that 33 barangays were heavily flooded in Metro Manila, including nine barangays in San Juan City, six in Malabon City and five each in Quezon and Pasig cities.

Thirty-seven road sections in Metro Manila were impassable.

In Bulacan, 25 barangays were under waste-deep water after the Ipo Dam opened three of its gates.

The Philippine Coast Guard and Philippine Ports Authority in Batangas suspended inter-island travel.




Cruz said that Pagasa had forecast heavy rains in Metro Manila over the weekend but "we cannot predict the amount of rainfall."

While a "general improvement" in the weather is expected on Sunday, De Leon said, Ondoy will continue to dump rains in Metro Manila and the rest of Luzon and the Vizayas until early this week because of the southwest monsoon.

As of 5 p.m. Saturday the eye of the storm was spotted in Pampanga.

It was moving 13 kph west northwest toward Iba, Zambales, packing maximum winds of 85 kilometers per hour with gustiness of 100 kph.

Cruz said that Ondoy had picked up speed and made landfall earlier than expected on Saturday.

Ondoy slammed into the boundary of Aurora and Quezon provinces shortly before noon. Pagasa had predicted it would hit land on Saturday afternoon.

Pagasa said Ondoy was expected to be 190 kilometers northwest of Iba, Zambales, by Sunday noon, and 630 km northwest of the province by Monday afternoon.

Mayor Bernabe said floodwaters reached the rooftops of houses in a private subdivision in Barangay Marcelo.

"Although flooding was common in Parañaque, this is the first time I saw our roads under waist-deep floodwaters. The city was practically at a standstill," he said.

Parañaque officials some 10,000 families in the city were affected or displaced.

In Las Pinas City, Vice Mayor Henry Medina said over 2,000 families fled their homes in eight villages near the Zapote and Las Piñas rivers.

Pateros residents were also surprised at how swift the waters had risen.

"We were really shocked by what had happened. The floodwaters suddenly went as high as six feet in a matter of three hours," he said.

The widespread flooding also prompted the Philippine National Construction Corp. (PNCC) to close both the north- and south-bound lanes of the South Luzon Expressway to all kinds of vehicles.




But the storm did not even spare the trains.

MRT3 operations were disrupted from 5 a.m. until 1 p.m. when floodwaters affected the power system of the Quezon Avenue station.

Operations were back to normal after 1 p.m.

Over 500 families were evacuated in Quezon City because of severe flooding as Mayor Feliciano Belmonte Jr. appealed to residents in low lying barangays to go to higher grounds.

Several families in Manila also evacuated to higher grounds.

"The Estero de Paco overflowed leaving the area submerged in knee-deep floodwater," Jay dela Fuente, chief of the city social welfare office, said. "This is the second time that the estero overflowed. The first time was during Typhoon Frank."

Low-lying Caloocan, Malabon, Navotas and Valenzuela are used to floods but residents were still surprised by the surge of floodwaters Saturday and by the speed with which the waters buried roads up to neck deep.

About 80 to 90 percent of Caloocan City was under water.

Public safety and traffic management chief Alfonso Sta. Maria said this was the worst flooding experienced by the city, submerging majority of its 188 barangays in five feet of waters, if not higher.



Telethon updates for storm victims
Sagip Kapamilya:

413-2667

and

416-0387
ABS-CBN U.S. Foundation

(Toll Free):
1-800-527-2820
Sagip Kapamilya Warehouse


(inkind and cash donations)
No.13 Examiner St., Quezon City
Please look for Ms. Girlie Aragon
"Support the Bagyong Ondoy Telethon! The AnitoKid!"



*Did you enjoy the post? Did you find it interesting?
You know what to do...:)