Efren Reyes

Interview on

Probe Profiles
Part 4
Video Link Here

CHE-CHE:
When did you realize that you're already famous? That every one knows you.

EFREN:
It all changed for me in 1999. It wasn't that way before. Yes, I always won but when I was just starting out to play, my fans were those from the rice fields, mostly kids - way before I joined tournaments! But 1999 changed everything! Now, the whole world knows – even where I will play! There are also countless who want my autographs!

CHE-CHE:
Have you ever thought that you have been instrumental in uplifting the image of the Filipino?

EFREN:
I don't know if that is the case.

CHE-CHE:
Would you still be joining tournaments? That you still hold the title of being the best pool player in the world?

EFREN:
I don't ever think of myself being the best or holding such a title.

CHE-CHE: (@1:00)
Nobody could have prepared Efren, particularly with what he was about to see when he arrived in the Philippines – fresh from his World Pool Championship win in Cardiff in 1999.

EFREN:
I cried when I saw the thousands of people of greeted me at the airport.

CHE-CHE:
Why did you cry?

EFREN:
Of course! I was very surprised!

CHE-CHE:
You cried?

EFREN:
Yes, I cried!

CHE-CHE:
What were you thinking then?

EFREN:
What is this? Why? Suddenly, I felt afraid to speak. It wasn't like this before! Why all this shower of affection for me? It's too much! I thought, "Maybe my countrymen loves me?"

Efren in Monitor (crying):
Of course, I am very happy.

Announcer in monitor:
Efren has indeed gone far…

CHE-CHE:
What did you feel when you saw the thousands of well-wishers at the airport? people greeting you? Calling and chanting your name?

EFREN:
I become nervous, of course. Thus, I don't know what to say, especially during interviews. I don't know what to do anymore.

CHE-CHE:
Since then, the people worshipped Efren.

PUTCH PUYAT:
After he won the World Championship, we played at Senator Manny Villar's Star Mall (in Alabang, Muntinlupa). It was attended by 10,000 people – probably the most number of attendees in a pool event!

In the match between Django Bustamante and Efren Reyes, people would booo Bustamante every time he comes to the table to shoot – not wanting him to play at all! I said, "They should stop it. Django fill fight it out." And that's how the people love Efren!

EFREN:
This is what I won – the World Japan Championship.

CHE-CHE:
Countless accolades, awards and recognitions were bestowed upon Efren since then. Presidential Legion of Honor (2000), Billiards Congress of America Hall of Fame (2001), and inclusion in Time Magazine's 60 Asian Heroes (2006), which included Cory Aquino, Lee Kwan Yu, Mahatma Gandhi, and Mother Teresa.

What did you feel when you were included in Time Magazine's 60 Asian Heroes?

EFREN:
Why was I included in this? There are so many others, much better than me and more accomplished, like Flash Elorde. Such should be the one in the list! And Paeng Nepomuceno, he was 4x World Champion then! Heck, these were famous and accomplished athletes even before I entered the scene!

PUTCH PUYAT:
I asked the chief editor of Time Magazine of why Efren Reyes was chosen to be in the list. He answered, "All of our junior editors – they unanimously chose him. They are his fans!"

I said, "But billiards is not a popular sport in Hong Kong!"

And the editor answered, "But we see him on TV. He is the unanimous choice."


CHE-CHE:
Puyat will never forget the speech Efren gave when he received the recognition from Time Magazine.

PUTCH PUYAT:
And he said, "Asian hero? Why me?" "I haven't done anything to change Asian life!"

CHE-CHE:
Efren said that?

PUTCH PUYAT:
Yes, he said that. He g
ave his speech In Filipino. His speech was translated by Ronnie Nathanielsz. I was even supposed to read the English translation – my opportunity to speak to the distinguished guests at the event. However, Time Magazine's senior editor approached me and requested that if he could have the privilege of reading the translati
on.

I said, "Sure! Go ahead! It's ok." But could I do, right?

CHE-CHE:
And what did Efren say in his speech?

PUTCH PUYAT:
Why is he being branded as a hero? That he is no her
o. That if he was chosen because of the upsurge in the popularity of the sport, then they got it all wrong. It is not his doing. It is because of, and said thanks to, the promoters, fellow pool players, and sponsors who continue to promote billiards to where it Is today.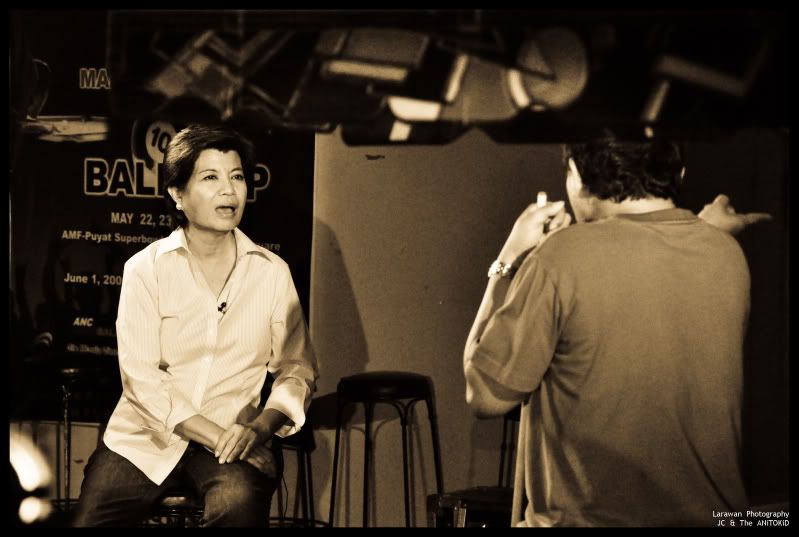 CHE-CHE:
So, he has remained humble? He has remained humble?

PUTCH PUYAT:
Yes!

RONNIE NATHANIELSZ:
His humility is is is unbelievable!

CHE-CHE:
Is he, among all the athletes that you have met, Filipino athletes, does he stand out?

RONNIE NATHANIELSZ:
Well, in terms of achievements, I supposed Pacquiao stands out. But in terms of humanity, the human dimensions of an athlete, Bata Reyes and Elorde are way ahead of Pacquiao in my estimation.

CHE-CHE:
In 2006, Efren surprised Nathanielsz even more! Efren entered and won the $500,000 prize in the International Pool Tour of multimillionaire Kevin Trudeau.

RONNIE NATHANIELSZ:
Bata won that but didn't get paid! The Americans threatened to sue Trudeau. Bata said "No!" Django said, "No!" Efren's reasoning was: In my first match there, I won $100,000, and was paid right away. This time, I know he (Trudeau) has problems and things like that. We'll wait. Give him time. And Trudeau did pay in installment! And Bata was very happy about that!

And you know, to him (Bata), money is not a prime consideration. His attitude is to make the Filipino fans in the audience happy! That's all!

CHE-CHE: (@6:05)
Efren gives more than joy to his countrymen. And to his fellow pool players! He gives much more than that!

PUTCH PUYAT:
He gives honor to our country, the Philippines! And
personally, the biggest thing he has done is that whenever he plays abroad, he brings smiles and joys to the country's newfound heroes, our overseas foreign workers (OFW). Our OFWs would watch him and would be given the chance to wave the Philippine flag – a display of patriotic fervor!

RONNIE NATHANIELSZ:
Remember the little girl who won the Women's World 10 Ball Championship – Rubilen Amit? She is a tremendous player! She beat some of the men! This is what you like about people like Efren and Django! They spend hours playing with her so she'll improve her skills, which is the perfect example of the nature of these men who are legends in their time.

CHE-CHE:
Hmmm. Is that why they are champions?

RONNIE NATHANIELSZ:
I think so! Because it's not the winning or the losing. It's the way they play the game. And the attitude they show. Their demeanor – at the table and off the table.
Bata! Reyes! Among all the players in the world, they always have a vote to who is their hero. Ninety percent voted for Bata Reyes! And they are his opponents! Ninety percent says he is the nicest man to play the game!

CHE-CHE:
At 54, Efren admits that his game, his speed, is changing - slowly.

EFREN:
No more! My hand can't do the shots I used to do. My eyes even hurt – especially when I take a long time for a particular shot.

CHE-CHE:
He now misses some shots that he used to execute flawlessly and effortlessly when he was younger.

EFREN:
My neck is now like stiff – can't seem to bend it well like I used to. That is the reason why I now fail to execute some trickshots. You see, in trickshots, there are different body positions, line of sight, aiming, etc.

CHE-CHE:
And because he is a true champion, Efren is ready to accept losses. Accept defeats.

You said that you can't win every time. You'll no longer be a winner all the time, right?

EFREN:
Yes, you are right.

CHE-CHE:
Who is the world's number one in billiards?

EFREN:
His name is, ranked number one today, Dennis Orcollo.

CHE-CHE:
Is he Filipino?

EFREN:
Yes, he is. He is the one who frequents tournaments nowadays.

CHE-CHE:
I see! Are you happy with that?

EFREN:
And why not? We have so many good Filipino players here! It's like a challenge for us!

CHE-CHE:
You're happy – even for other pool players?

EFREN:
Of course! I want more players to improve! Thus, I'll have more opponents!

CHE-CHE:
It's been another episode of Profle. You can watch the final parts of our interview on www.ProbeTV.com.





"It is just awesome with The AnitoKid!"



*Did you enjoy the post? Did you find it interesting?
You know what to do...:)