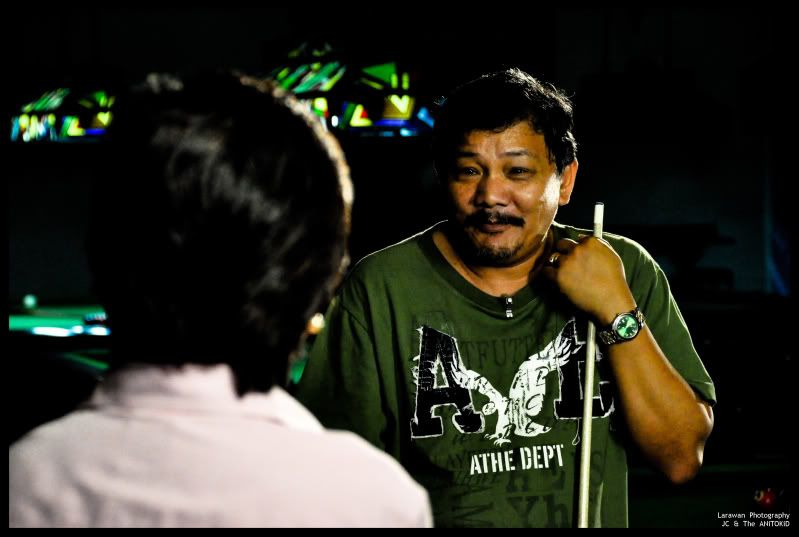 Efren Reyes

Interview on

Probe Profiles
Part 2
Video Link Here

CHE-CHE:
Where did the name Bata originate? Why do they call you Bata?

EFREN:
There used to be a player named Efren when I was starting out – and a good one, too! He was also like famous in the local circuit - carved a name for himself, too. And to differentiate us, when we're together and for everyone else, e.g., fellow pool players, he was called Efren Matanda (old) and I, Efren Bata (Kid).

CHE-CHE:
According to Putch Puyat, your talent is God-given. What does that mean?

EFREN:
It's like the One above gave me the talent to excel in billiards. Just imagine, I have like learned all of the tips and tricks there are in this sport. In the beginning, I didn't even know that this is a sport! Billiards used to be a hush-hush thing! The old ones used to scold us whenever they see us, the young ones, play! They would also forbid us to go to pool halls!

CHE-CHE:
Efren is the 5th child of 9 of a wet market vendor from Culubasa, Mexico, Pampanga.

RUFINO REYES (brother):
He has done no wrong to anyone. Wasn't mischievous in any sort of way. He is very kind. He doesn't like fights. He also used to be like aloof – not socializing with anyone who are (inaudible).

CHE-CHE:
To help out the family, Efren's father decided to bring the 5-year old Efren to Manila. Efren worked as a pool attendant at the Lucky 13 pool hall in Manila, which was owned by one of his uncles.

Efren had absolutely no interest in billiards at that point in time.

EFREN:
My interest in billiards started when I began seeing players hand each other money after their respective matches. I didn't understand gambling, then. Thus, I started playing in hopes that they'll give me money, too!

CHE-CHE:
Ha ha ha! Thus, money was like your primary motivation when you started playing billiards! But being a 5-year-old, you could only partially see all of the table! How did you cope with your play?

EFREN:
Whenever I couldn't reach a shot, I would get three cases of Coca-Cola and stack 'em one on the top of the other. Then, I'll stand on the stack for the shot.

CHE-CHE:
Pursigido si Efren!

RUFINO REYES:
He will always be seen playing. Even playing one-handed because he was short – couldn't see all the table! And he still played even when he couldn't see all of the table! In the end, he learned. And he learned well!

EFREN:
I remember sleeping on pool tables. I will immediately play whenever I wake up. And I will also play before going to bed. (You could really feel the emotions from Efren when he was saying this. I was there.)

CHE-CHE:
Rufino was very much surprised with Efren's talent on the pool table.

RUFINO REYES:
We really didn't expect Efren to become good in billiards. Then, we saw him play! He was really good! In fact, he was very good! Thus, what happened, our uncle started bringing Efren to money-game matches.

BERTING BISAYA (@ 2:52)
He beat the champion here! He became good here (Paki? inaudible). He beat everybody and anybody here! All of us – those really knowledgeable in billiards – he beat us all!

CHE-CHE:
Twelve years old, that's the age Efren started to become a road player – looking for money-game matches everywhere – and anywhere! And because the motion picture, "The Hustler", was popular that time, money game matches was the "in" thing in pool halls, too!

According to Mr. Berting Bisaya, Efren had Chinese friends who would bet on him in money-game matches.

BERTING BISAYA:
Efren had a manager (money-game manager/financier) named Guding (from Escolta, Manila). Guding made Efren his tirador – money game player. Efren also received a salary from Guding.

CHE-CHE:
Did you enjoy the trips you made? The ones you made looking for money-game matches?

EFREN:
Why wouldn't I enjoy them? We always make money every time we were on the road. We always win! And I always get a cut of the money prize. Thus, I always have money to bring home!

ROLLY VICENTE:
This is where I first saw Efren. He lost his first match. And many after that! But after one year, it was a totally different story! A totally different Efren! He was then all wins! He learned very fast!

CHE-CHE:
Rolly is Efren's childhood friend. Together, both Efren and Rolly toured the country's billiards halls for money-game matches – hustling.

ROLLY VICENTE:
We used to go to Clark Air Base in Pampanga to play against the US servicemen – to earn money. You know, we would go from billiards joint to another looking for money game matches. Matches also ran in the thousands of pesos back then because bets there were in dollars!

CHE-CHE:
Efren become known for his fancy shots, which he learned and developed from watching players who get lucky with their shots.

EFREN:
Those with fancy shots are those who do not know how to play. It's all luck! There are players who shoot softly but the shot becomes strong. There are also those who shoot hard, but the outcome is like a soft shot. And then, there are those that aim and shoot at different parts of the cueball, e.g., low, middle, and high, with different effects on the ball.

CHE-CHE:
It was only a matter of time before Efren Reyes' name and speed spread like wildfire among the local pool halls. He became a feared player in billiards halls!

EFREN:
They see my speed and smarts on the table. And they know that will have a very difficult time playing and winning against me. Thus, there were very, very, very few who would play against me.

CHE-CHE:
Because of fear?

EFREN:
Yes. That is why I decided to get a job in a printing press.

CHE-CHE:
Efren got a job in a printing press – arranging and stacking comic books. But, only after one year, he went back to billiards.

EFREN:
I earned Php90 a month at my job at the printing press. I decided to go back to billiards! I surmised that I'm better off in billiards. I can earn such amount playing billiards. Even in a worst case scenario, I will still earn that Php90 even if I only win once a month!

CHE-CHE:
1975 – the year that an American sportswriter saw Efren Reyes play.

EFREN:
He saw me playing at the Lucky 13 pool hall. He was at the window – shooting pictures. He went back to the United States.

The pool players there were asked about their thoughts on who could possibly beat them – who is the best pool player? A player quipped, "The Japanese. They have a chance to beat us because they always play here." The American sportswriter said, "There is already man who can beat you. All of you. He will soon be here. A man from the mountains. His name – Efren Reyes!

CHE-CHE:
This news spoiled Efren's strategies and plans when he comes the US. At this point in time, a Filipino in the US was already planning to bring Efren to the States – winning money game matches while hiding his true speed.

EFREN:
Thus, the name Efren Reyes became known there (United States). So how? How can I go there, hustle, and win? I had no interest in the tournaments there. Our goal there was to hide my speed and win money games – lots of it – by hustling! How could we do that if they know me? If they know my name? I can't hide my speed and hustle well if they know me.

CHE-CHE:
Because of the news that an Efren Reyes will come to the US, Efren and his backers came up with a new strategy, i.e., Efren used another name to go to the US – Caesar Morales.

ROLLY VICENTE:
In the US, Efren will deny that he is Efren Reyes. Pool players there have already heard of his name and great speed – yet, they do not know how he looks like. When he lands in the US, Efren will be in disguise. Efren's goal then was to hustle.

If they knew that it was Efren Reyes they're playing against at, Efren will be having a difficult time finding opponents. It is possible that he will have opponents and matches playing as Efren Reyes – but at difficult odds and weights! But with the name Caesar Morales – now, that's a totally different story!

CHE-CHE:
Not a single player in the US could match Efren's speed on the table! Efren sowed the pool joints with ease, discovering new faces and facets of the sport.

EFREN:
'Twas totally different in the US! Hey! We could actually forego money-game matches because of the big tournaments there! Thus, I entered a tournament using Caesar Morales as my name. My manager said, "I think we should use your real name. Otherwise, they may forfeit your prize if you don't!" Thus, my manager told my real name to the promoter.

CHE-CHE:
True! True!

EFREN:
At the end of the tournament, I remember the promoter saying, "It is okay if you played under a different name. Because guess what? Your opponent in the finals? He also played under a different name!"

CHE-CHE:
Efren entered his first tournament in the US – The Red's 9-Ball Open (Houston, TX) – and won it as Caesar Morales! However, the masquerade was soon all over when he signed his real name for a fan asking for an autograph! He signed it "Efren Reyes!"

The Americans were in awe with Efren's speed - and shots they have never imagined possible nor seen before done on the pool table!

EFREN:
When I started beating them one by one, they said, "That person, Efren Reyes, is not from this world! He is from another planet!" Incidentally, a billiards magazine published a story on me and titled it, "The Man from A Different Planet," with a picture of me wearing a mask.

CHE-CHE:
Efren Reyes' first prize in the US (Red's 9-Ball Tour, 1985) was $10,500! However, he didn't see a cent of it! He didn't receive any cut whatsoever! Said the Filipino manager who brought him to the US, he (Efren) still owes him $50 for expenses! This saddened Efren.

EFREN:
I didn't receive any money. Yet, I did not lose.

CHE-CHE:
What happened to your winnings?

EFREN:
I don't know. I guess it's all gone. I haven't since my managers since then.

CHE-CHE (@ 9:00):
Efren tried again his luck the next year. However, bad luck seemed to follow him, still.

ROLLY VICENTE:
Efren placed 3rd place only. In another tour, 2nd place only. And so on. During that time, Efren confided to me that he felt discouraged with what was happening to him. You know, Efren feels discouraged when he loses – as I surmise from our talks. I said to him, "Maybe, it's not yet time. Who knows, when we suffer enough loses, and get tired of such, then we will win!

CHE-CHE:
Rolly correctly forecast what was about to happen to Efren! And Efren was soon nicknamed The Magician!

EFREN:
The reason why I'm called The Magician? They say that every time I go to the US, people there would always see and learn something new, i.e., shots and tricks.

CHE-CHE:
Efren's successive wins and victories earned him the attention of the Puyat brothers. The Puyat brothers set up a showdown between Efren Reyes and Jose Amang Parica, the champion of the Philippines (year 1988).

PUTCH PUYAT:
The nagging question was: Who was the better player: Amang or Efren? People requested to know. Thus, we promoted a one-on-one match between Amang and Efren – race to 35. And Efren won that!

CHE-CHE:
The Puyat brothers were convinced to promote Efren. One notable event supported by the Puyat brothers was the Color of Money - the match against Earl "The Pearl Strickland," in Hong Kong.

PUTCH PUYAT:
This was a race to 135, thus, it took 3 days to finish. What happened was, my brother accompanied Efren and his pals in Hong Kong. I received daily updates on developments via phone calls.

On the second day, with 17 games to go, Efren was losing/down 35 games! People there said, "It's futile! It's a done deal!" Some of the people there with Efren even went back to their hotel room – not finishing the event. They couldn't bear the thought of seeing Efren massacred by Earl.

CHE-CHE:
On the 3rd day, Efren surprised every one!


RONNIE NATHANIELSZ:
Bata came back on the last day defeating him so badly. Because he was so way ahead in that match! And he thought it was all over! And Bata played some fantastic pool on the final day to beat him!

CHE-CHE:
According to Efren, he managed to win that event
by tapping the balls!

EFREN:
Before the balls were set, Earl always tapped the first 3 balls in front of the 9-ball rack. What I did, I also tapped the balls – specifically the same first 3 balls – the 1 ball and the two balls behind it.

CHE-CHE:
Why did you do it? Why did you also tap the balls?

EFREN:
I don't know. Maybe my thinking/reasoning was Earl kept tapping the balls. He kept tapping the balls! Thus, I tapped the balls to change Earl's luck during the break – because every time he breaks, at least a ball sinks in. In the end, it was I who was getting good breaks and none for Earl! Ha ha ha! And that's how I overcome his hu
ge lead and beat him during the event in Hong Kong!


CHE-CHE:
Efren is such a very superstitious person, according to his kumpadre, Django Bustamante.

DJANGO BUSTAMANTE:
For example, Efren takes a bath a day before the start of a tournament. And that's it! He will not take a bath until the tournament ends. And this is particularly true when he plays very well on a particular day of an event! I guess, he doesn't want to rub off the luck that is with him! And it's true! Luck seems to be always with him!

EFREN:
I also correlate my clothes with my luck. I have clothes that I consider lucky. I don't like wearing that I wore during a lost! Such area already unlucky for me!

CHE-CHE:
And what clothes do you consider lucky?

EFREN:
Polo! Polo shirts! Not t-shirts! Those with a pocket on the left side of my chest. Or two pockets on both left and right side of my chest – like that!

CHE-CHE:
Efren also had a thing to say about his dentures.

ROLLY VICENTE:
I said to him, you're a rising star. You should wear dentures to be presentable! And thus, I encouraged him to have a dentist in Los Angeles make him one. And a dentist did! However, it seemed that we always lose when he wore the dentures during play.

What happened was, during one of our flights, he went to the comfort ro
om. He had no more dentures when he came back to his seat! I asked, "What happened? Why?" "I threw 'em away! I can't move comfortably with them!" said Efren. I guess he was right and I just nodded. With that, I let him be.

CHE-CHE:
The Color of Money had a guaranteed $150,000 in prize money – the biggest prize in billiards then – and Efren won it against Earl Strickland!