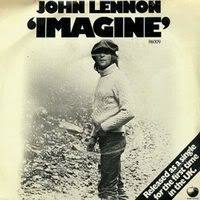 Imagine
- John Lennon -

Imagine there's no blogspot
It's hard if you blog
No train linking us
And no viral tags
Imagine all the bloggers
Blogging for today
Imagine there's no Technorati
It isn't hard to do
Nothing to blog or post for
And no Typepad too
Imagine all the bloggers
Blogging life in peace
You may say that I'm a blogger
But I'm not the only one
I hope someday you'll join us
And the blogsphere will be as one
Imagine no wordpress
I wonder if Anitokid can
No need for The Broken Bow
A bloggerhood of man
Imagine all the bloggers
Sharing the blogsphere
You may say that I'm a blogger
But I'm not the only one
I hope someday you'll join us
And the blogsphere will live as one



*courtesy of my friend over
at The Penniless Fat Guy

**Wednesday's Blogsong started out
as an exchange among my friends over at
The Broken Bow, My Extra Dirty Mind, and I am Sam.
It got me thinking of posting songs
with a hint of and feel for blogs.
*

Did you enjoy this post? Did you find it interesting?
You know what to do :)